A bright, cloudless sky peeked in from behind an improvised stage as a group of clubhouse members dressed in festive clothes and Santa hats performed a Christmas show for Clear Blue Sky, a day program and safe-haven for individuals coping with mental illness on St. Thomas.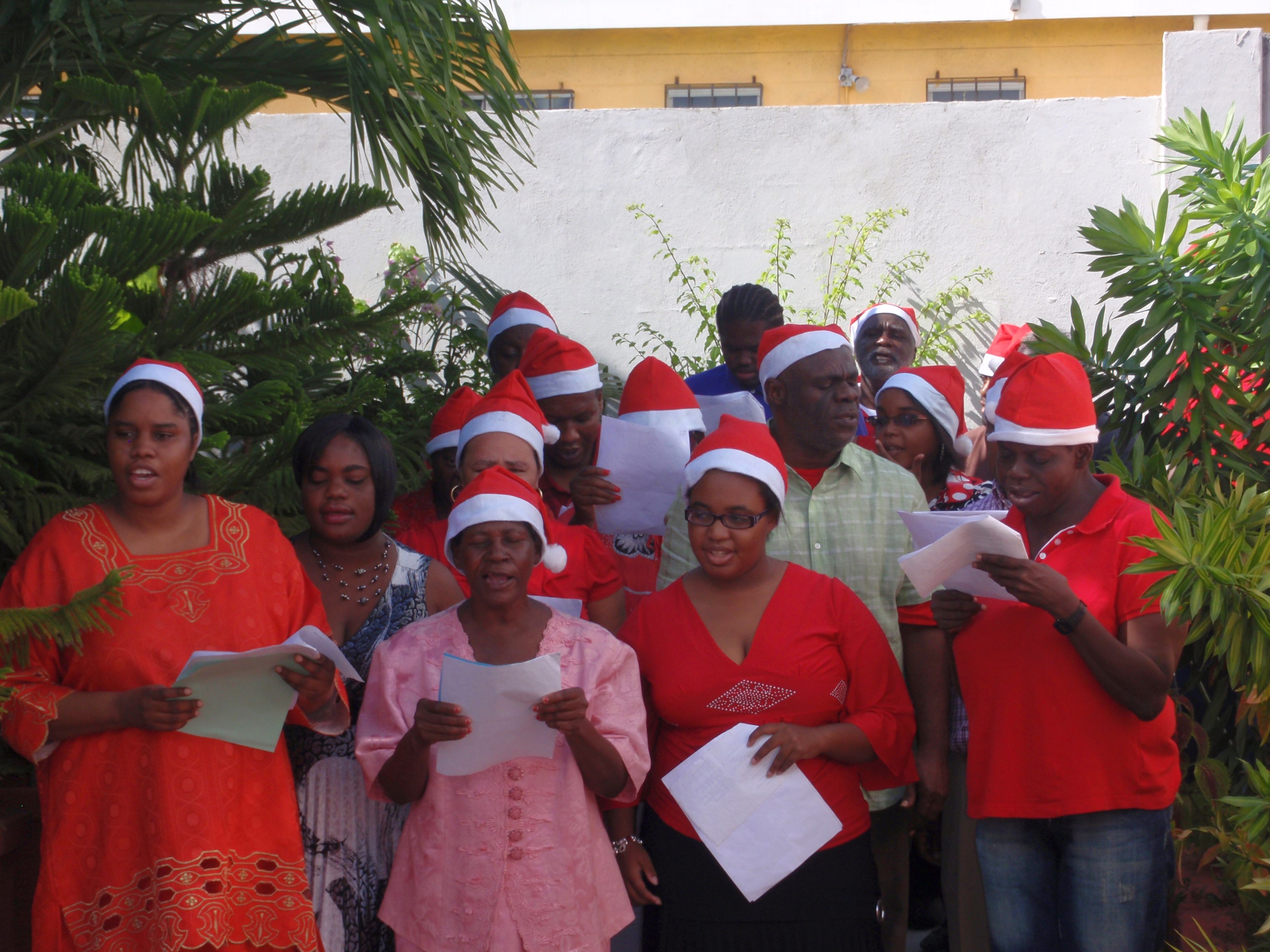 "This Christmas we will be having the best Christmas we've had in seven years, "said executive director Arlene Monaghan, who began running Clear Blue Sky out of her home seven years ago.
Since that time, Clear Blue Sky has flourished into a program with 80 voluntary participants or clubhouse members. Luz Moron, secretary of the board, echoed these sentiments, saying that this year a wish list was made by the clubhouse members and sent to individuals in the St. Thomas community. In addition, the clubhouse members participated in a gift exchange amongst themselves.
"Everyone is getting what they wanted this year," said Moron.
Monaghan said that this is the first year Clear Blue Sky has hosted a big celebration for Christmas. The festivities began Friday at 11 a.m., with a show that included group Christmas carols, a scripture reading, an original poem, a group acrostic poem, several solo and duet songs, and a fashion show in which clubhouse members strutted their stuff.
After the celebration show, everyone headed upstairs to share a Christmas meal and chat around the decorated tree. As an array of desserts made their appearance, the gift giving began, leaving each participant with at least two gifts, and more importantly, with a sense of warmth and community.
Over the course of the afternoon, it became apparent what a meaningful impact Clear Blue Sky has had on clubhouse members and their families, not just at Christmas time, but every day.
Clubhouse member Leonard, who welcomed visitors as they entered the courtyard, and later read the scripture during the show, said that before he began going to Clear Blue Sky, he was "going around in circles in his life." He was unstable without anyone to help him through his mental illness. Clear Blue Sky, he said, has helped him stabilize his life. He now works as an entitlement officer on the island of St. Thomas, and hopes to become a peer counselor and help others who are still struggling with their own mental illness.
Immediately following the show, mothers Florence and Margarita stood up to say a few words about the ways in which Clear Blue Sky has helped their daughters' progress.
Florence, whose daughter Kizcie sang "I Give Myself Away" in the show, was bursting with emotion: she expressed her gratitude to God and to Monaghan.
Margarita, who sang "They Need to Know" with her daughter, Leia, said she was there to support the Clear Blue Sky community and Leia, but also to support all people struggling with mental illness.
Both young women had been suffering from the stigma surrounding mental illness for years with no proper outlet or support group to help them deal with their own personal difficulties until Clear Blue Sky became a part of their lives.
"If I didn't believe it, I wouldn't be here" says Margarita. "Clear Blue Sky has brought Leia out of her shell."
Choking back tears, Monaghan expressed her appreciation for the gratitude with a broad smile, but also made clear that it is not just her, but "the whole staff and also the members who embrace each other."
Clear Blue Sky provides an atmosphere of love and acceptance that seems to be one of the primary things that is missing from the community when it comes to the topic of mental health.
Margarita explained that when Leia's condition began affecting her, it was very difficult for teachers and peers to understand the changes they saw in the honor roll student. She stressed the importance of getting the community to understand what mental illness is, and in doing so, dissipate so much of the stigma that is currently surrounding it.
Monaghan commented that much more is needed from the community in effectively dealing with mental illness. Tregenza Roach, who has been president of the board for about three years, has spoken about his sense of responsibility as an individual saying:
"You live in a community and want things to change, the reality is- you have to do it. I believe change begins with the individual. You can't sit around and wait for the magic to happen, the magic is in the person."
If there has been magic anywhere this season, it was certainly in the people present at the Clear Blue Sky Christmas party. Smiles and murmurs of appreciation filled the room as clubhouse member Daisy distributed gifts. Guest Duffy Merced arrived with a box full of gift-bags for each member. Merced's son, Jesse, made an appearance in a white wig and beard as Santa Claus, ho-ho-ho-ing and handing out all of the gift-bags. Luz Maron also brought gifts of blue, beaded bracelets made by her daughter, Noel, for the ladies of Clear Blue Sky.
As everyone ate cake and sipped eggnog and ginger beer over the unwrapping of gifts, Clear Blue Sky seemed to be just as much a family as it is a program. Leonard expounded:
"Christmas is a time for family. It's a time for reaching out and helping others – not just at Christmas – but especially at Christmas."