Peter Eloi moved quickly to protect his hand-carved statues of embracing lovers, island mutts and busty women from the intermittent drizzle that fell Friday on Emancipation Garden.
The artist was one of several dozen set up for Miracle on Main Street's Holiday Fair hosted by the Committee to Revive Our Culture. As part of the 19th annual Miracle, community members and tourists were treated to free live music, special merchant sales and nonprofit displays that spread across downtown Charlotte Amalie.
At the heart of it all were local vendors like Eloi.
Eloi, a St. Thomas native who has a storefront at Tillet Gardens, Eloi Leather and Crafts, said business was a bit slower than usual because of the less-than-ideal weather and generally poor state of the economy.
Despite these challenges, Eloi said he hoped Virgin Islanders will rally to support local artisans this holiday season.
"In America, we just consume; we don't make," said Eloi, who was surrounded by art he had crafted from teak, mahogany and mangrove. "I wish people would come and support the island, or at least support America, so more people could be creative."
Around the corner, St. Thomas gospel singer, artist – and V.I. assistant attorney general – Aquannette Chinnery displayed a wide range of handmade products, from soaps to jewelry to prints to paintings.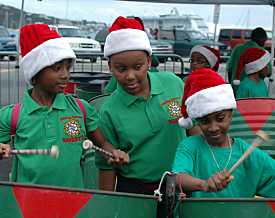 What Chinnery considers an adequate amount of business may have been at a lower threshold than some of the afternoon's other vendors, for whom art is a full-time gig.
"If I make back my entry fee and a little bit more, I'm good to go," Chinnery said.
Across the sidewalk, Roy Cummings pulled out his Guyana identification card to prove that his name was the same as that embossed into his array of hand-crafted leather sandals made by Cummings Leather Company.
"A voice in the wilderness is crying out for a sale!" Cummings said. "We are here to please and not to tease."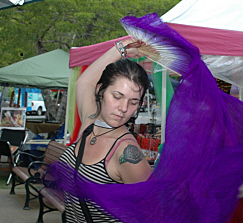 Cummings said his sandals for men, women and children are made from Guyana-raised sheep, goats and cows, and they range from $16 to $48 per pair.
Shopper Raven Valentine, 24, eyed the sandals with interest before stopping to perform an impromptu fan dance.
Valentine said she splits her time between St. Thomas, Atlanta, Ga., and backpacking trips to national parks.
With several purchases in hand, Valentine had already caught the buy-local bug Eloi hopes will catch on.
"It's stuff you don't always see at the market or the store," Valentine said of the fair. "It's a lot more diverse. "