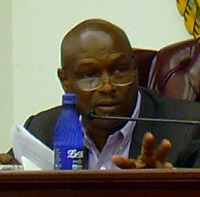 The V.I. Legislature voted Thursday to tap the Insurance Guaranty Fund for $35 million dollars –roughly its projected year-end balance – dedicating most of the sum to salaries in hopes of forestalling forced government layoffs due to insufficient revenues.
The bill calls for $3 million to be split evenly between the territory's two hospitals to pay their utility bills, and for the rest to be devoted to paying salaries.
While it will hopefully lessen the immediate risk of layoffs due to the V.I government's ongoing fiscal crisis, the money is not a panacea to the territory's budget woes, cautioned Sen. Carlton "Ital" Dowe, the sponsor of the measure. "We are not out of the woods by no stretch," Dowe said after the legislative session concluded.
For starters, the 2012 budget passed by the Legislature in September relies on $20 million being taken from the Insurance Guaranty Fund, but the Legislature had not actually appropriated that $20 million, Dowe said, so only $15 million in additional funds would potentially be available.
The Insurance Guaranty Fund is a government fund to insure insurance companies, so residents do not pay insurance premiums, then find themselves without a net if the insurance company folds. Each year, five percent of gross receipts tax paid on every insurance policy in the Virgin Islands is deposited into the fund; roughly $15 million to $20 million per year, until it reaches $50 million.
That pool of money can normally be tapped into only if an insurance company registered to do business in the territory becomes insolvent and cannot pay its claims. Since that is a very rare occurrence, the government has periodically tapped into the funds, replacing them with a letter of credit.
Legislative post auditor Jose George said the last time he spoke with Management and Budget officials, about a week prior, the fund had a balance of "close to $20 million," and officials were projecting it would reach $30 million to $35 million by year's end. It is well below its par of $50 million because the government tapped it for $45 million in 2010 to pay a portion of retroactive salaries due government employees. The government purchased a letter of credit from Banco Popular, promising to pay the $45 million if the fund needed to be activated, at a cost of roughly $788,000.
That letter of credit would need to be renegotiated and extended before the funds could be drawn down, Dowe said.
The measure was enacted as an amendment to an unrelated piece of legislation enacting the Uniform Mechanical Code, the national standard for regulations covering mechanical trades. That bill was used as a vehicle for a number of unrelated amendments, including measures:
mandating stores selling tobacco post signs saying it is illegal to sell to minors and that sellers must check identification, proposed by Sen. Shawn-Michael Malone;
creating a special license for timeshare salespeople, to allow them to solicit on the street and exempt them from the general ban on street barkers, proposed by Malone;
re-appropriating roughly $17,500 in unused federal Community Development Block Grant Funding from the University of the Virgin Islands' Upward Bound program to match funds from Diageo for playground equipment at Juanita Gardine Elementary School, proposed by Sen. Nereida "Nellie" Rivera-O'Reilly;
re-appropriating $200,000 set aside in the previous Legislature for restrooms in Cane Bay on St. Croix, with $60,000 to the St. Croix Women's Coalition to help repair its fire and vandalism damaged buildings, $40,000 to Claude O. Markoe Elementary School for a "parent room," and $100,000 to Arthur A. Richards Junior High School to repair bleachers, proposed by Sen. Sammuel Sanes;
appropriating an extra $56,000 for the St. John Dial-A-Ride, proposed by Sen. Craig Barshinger.
After several other more arcane and technical unrelated amendments were added to the bill on the mechanical trades, the Legislature approved it. Voting yea were Barshinger, Dowe, Malone, Sanes, Sens. Alicia "Chucky" Hansen, Patrick Hill, Usie Richards, Ronald Russell, Patrick Sprauve, Celestino White, Alvin Williams and Janette Millin-Young. Voting nay were Rivera-O'Reilly, Sens. Neville James and Terrence "Positive" Nelson.