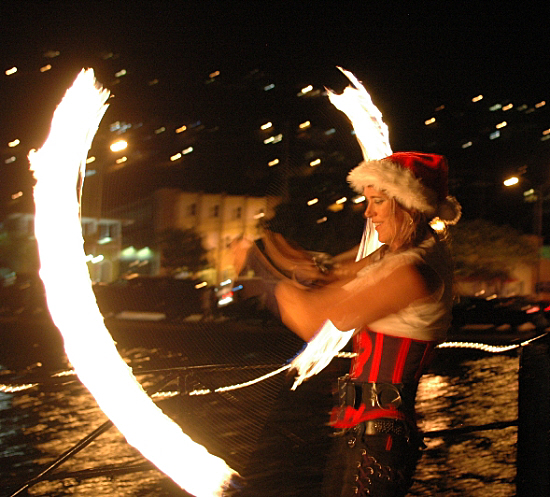 On the deck of the red pirate ship Treasure Seeker, Brenda Sylvia dipped her fire snakes into a bucket of camp fuel, deftly set them aflame and whipped the blazing staffs around her face as the crowd along Veterans Drive went wild.
It may not have been the party the pirate ship people had originally intended, but it was a hell of a party nonetheless.
It was Friday night's Lighted Boat Parade, and the Treasure Seeker –docked off Veterans Drive for the last two months – was in full festive force. Owner Ray Hixon and his son, Tripp, said they had hoped to pack the boat with 100 parade revelers but were not able to secure the proper permits in time.
They made do with inviting a small group of friends for a BYOB occasion hallmarked by Sylvia's illuminating performances, which she ended with flushed cheeks and her long hair wet with sweat from the exercise and heat.
The Treasure Seeker's entry into the parade formation, which left Crown Bay and crossed several times before the crowd along Veterans Drive, was not without a few hiccups.
"Fury is supposed to be past us!" fretted Boggz, a towheaded stowaway from Tortola.
"Are they too drunk or something?" he wondered about the Fury sailboat's crew. "They've been in the ice chest for too long."
Manning the Treasure Seeker's helm, Tripp Hixon eventually gleaned from the parade captains' frenzied radio exchanges that this was not at all the case.
"They've been waiting on us?" he said. "Well… whatever. I made my own parade."
While the parade's other entrants may have been better festooned with colorful lights, Christmas trees and Rudolph displays, the Treasure Seeker made up for its lack of decorative flair with Sylvia's stand-out athletic performance. And even though it did not earn a top award from official parade judges – who named Capt. Bert Reynolds' Blackbeard's Revenge first, Capt. Christoper Cilliers' Little Toot second, Capt. Jimmy Jones' Friendship third and Capt. Marques' Mandolin Wind fourth – Sylvia's show certainly captured the crowd's attention.
"Anybody can see a boat fly by," one of the Treasure Seeker's lucky passengers, Brett Kimelman of St. Thomas, said. "But we had something no one else had – lights of fire!"