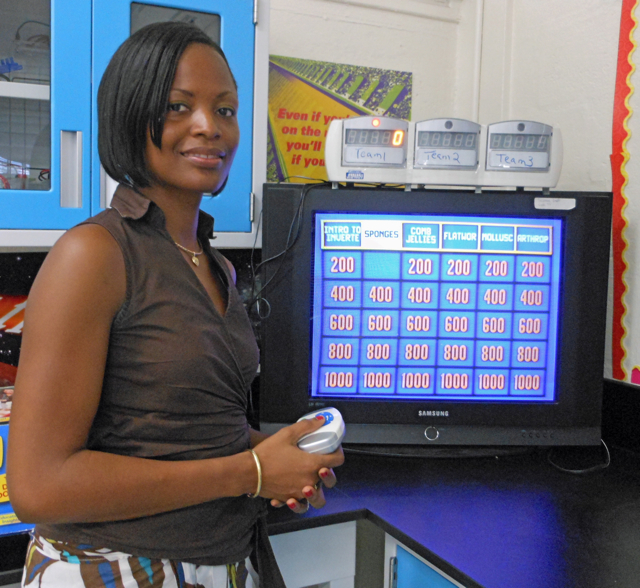 The classroom is empty on a weekday morning, but the advanced placement biology teacher Nneka Howard-Sibilly brings it to life just talking about what's going on with her students this term. Her energy is compelling.
"And," she says, after describing a nutrition project, "we play Jeopardy."
Jeopardy? Yep, just like the real thing.
Howard-Sibilly brings out the game and hooks it up. It's complete with buzzers and the familiar musical refrain. She is the class Alex Trebek.
"I do all the questions, based on current class work," Howard-Sibilly says. She prints out a category which lights up on the monitor – Marine Science. Question (or answer in the game's format): The largest marine phylum. Answer "what is molluska, comprising 23 percent of all named marine organisms."
Howard-Sibilly takes delight in showing off the game. "The students love it," she says. "They enjoy the competition, and it stimulates their studying – they practice all the time."
This is just one example of Sibilly's imagination and dedication, qualities that led to her being named 2012 Virgin Islands District Teacher of the Year and 2012 State Teacher of the Year by the Department of Education last month.
Out of the classroom, Howard-Sibilly is chairwoman of the school's Science Department, a member of the school's Accreditation Steering Committee and the school's Science, Technology and Engineering and Math coordinator.
She doesn't deflect but is clearly pleased by the title, and eager to show the projects her students are working on. The classroom is filled with carefully constructed boards illustrating current projects including something a little odd: resumes from unlikely job candidates such as a mushroom, Fungi Rico.
His resume notes: "Experience: produces eccoradle used for building purposes; produces penicillin and there are many other medicines that have since been synthesized; or can be made into a substitute hamburger." You get the idea.
These resumes will be displayed at the school's Science Fair, now called the STEM Fair – science, technology, engineering and math – next spring, something Howard-Sibilly coordinates each year.
As for her teaching philosophy, Howard-Sibilly says, "You have to keep the students active, engaged, learning new technologies." Whatever she uses, it works.
According to CAHS Principal Carmen Howell, Howard-Sibilly's methods have proven effective, with 60 percent of juniors showing proficiency in science on the VITAL (V.I. Territorial Assessment of Learning exam) for 2011. Howard-Sibilly began teaching general biology in 2000, working up to her present responsibilities.
Saturdays, Howard-Sibilly works with her students on next year's Quiz Bowl. "We placed fourth last year," she says, indicating that won't do for next year.
She has her hands full managing her department – a staff of 12 – let alone the extracurricular activities, but she says it's all about organization. "Right now, I'm planning for next semester, teachers' lesson plans, making sure they are on board with our cultural literacy program, which incorporates the CAHS word of the day.
"Now, we have a science word of the day, too," she says, "the idea of our chemistry teacher. For instance, 'hypothesis,' or 'quantitative.' It's a discipline."
Meantime, Howard-Sibilly teaches biology in the CAHS 21st Century After-School program.
Howard-Sibilly says she has almost always known she would be a teacher, which isn't surprising.
But, she says, "When I was growing up, there was pressure to become a doctor, a lawyer, but by the time I was in high school teaching became what I had to do. My intention is to inform the rest of the world what a noble profession it is. That old adage – 'Those who can do, and those who can't, teach' – is wrong. I teach for the love of it, not because I couldn't do anything else."
The more time you spend with Howard-Sibilly, the more you learn. Her conversation is her classroom.
She shares bit about her background. Her father is the noted historian and retired CAHS social sciences teacher. "He retired in 2000, the year I started," she says. "Growing up, we were always made aware of the impact of history on our life, here and on trips. I remember a trip to Disney World that he turned into a history lesson."
A 1994 CAHS graduate, Howard-Sibilly earned a bachelor's in biology at Morgan State University, and her master's in science education from Nova Southeastern University in South Florida. "After Baltimore winters," she says, "I determined to finish my studies in Florida!"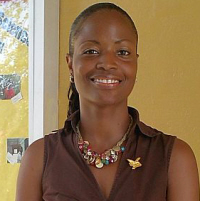 She has a busy year coming up, off the CAHS campus. She will represent the territory at the National State Teacher of the Year Competition, run by the Council of Chief State School Officers.
State Teachers of the Year participate in a number of activities, beginning in January with the National State Teacher of the Year Conference in Dallas, Texas. Howard-Sibilly will also attend and participate in the ECS National Forum on Education Policy in Atlanta, Ga.; International Space Camp in Huntsville, Ala.; the Next Steps Conference in Princeton, N.J.; and the Pearson Education Mobile Video Institute in New York, N.Y.
"I'm looking forward to the experience – it's exciting," Howard-Sibilly admits, adding, with a laugh, "My mother says she keeps seeing my name everywhere now."