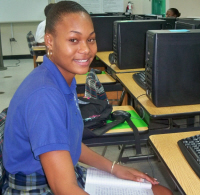 St. Croix Career and Technical Education Center has an elite society of juniors and seniors that excel in academics and technical vocations. They are members of the National Technical Honor Society (NTHS) recognized for outstanding grades and skills in their chosen field.
"Some of these students are in two and three other honor societies," advisor Ruth Wilson said. "They have to maintain an A in their chosen technical field and a B-plus in academics.
"We only allow very active students that have a real desire to participate in the society. They set high standards for themselves and I check their report cards periodically." She said they usually have 20 to 25 students in the society.
The National Technical Honor Society was launched by C. Allen Powell and Jon H. Poteat in 1984 as the National Vocational-Technical Honor Society in Spartanburg County, S.C. The group's aim is to publicly recognize vocational students committed to excellence, and it awards more than 100 scholarships to members each year. The NTHS serves over 2,500 member schools and universities.
Wilson, computer and resource teacher at CTEC, has been the advisor and driving force behind the society since its inception in 2002.
To be accepted, students must get letters of recommendation from teachers and approval of the principal. Wilson said she wants a group of students that want to give back to the community by actively planning activities and doing fundraising.
"These students are really dedicated," Wilson said. "They don't give up regular school activities and classes for meetings, they meet after school for an hour every Thursday." Students come by bus from St. Croix Central High School and students come from AZ Academy and St. Joseph's Catholic High School for the business meetings and event planning.
The students take part in a USDA food collection and distribution for seniors and low income people. They collect food for My Brother's Table and Light House Mission soup kitchens. They do beach clean-ups and attend conferences and workshops such as the Teens on Teens Entrepreneur project.
"It isn't just an honor to belong," Wilson said. "They have to be involved and use the skills they have learned to benefit themselves and others in our community." The students are learning life skills such as teamwork, organizational skills, and preparing for college and post secondary education so they will be successful in life Wilson says.
"Being a member of the National Technical Honor Society comes with many benefits," Yasmin Shepard, vice president, said. She said those benefits for her are going out into the community, earning community service hours, and helping others. It also includes joining in other organization's activities, such as Woman's Coalition – Take Back the Night.
Cahtriellah Shabazz, president of the society, said the benefits of membership are varied. "The leadership skills I am learning will be very helpful in my life," Shabazz said. "And the community service we do is recommended for entrance into college."