In a way, the annual St. Croix Christmas Boat Parade, which was held Saturday at Christiansted, is the best of everything.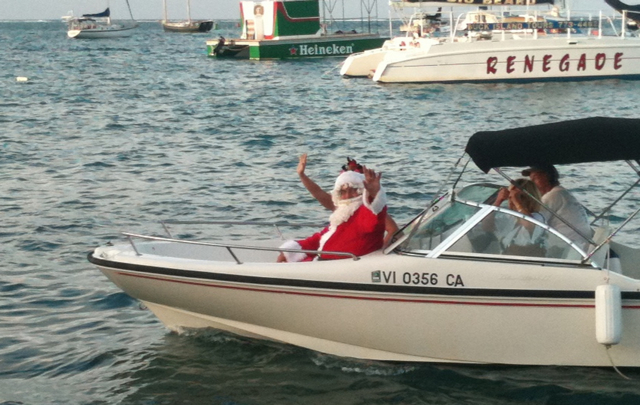 There are the boats, of course, decorated for Christmas; there's the music coming across the water from the boats; and then there's the fun both aboard and on shore – and then – a balmy tropic night lit by the full moon ghosting in and out of the clouds; the festival atmosphere all through the town in the afternoon, with holiday concerts building up to big moment: Santa Claus arrives via motor boat.
If this wasn't enough, the day was topped off with the most impressive fireworks display you could get lighting up the sky over the harbor for almost half an hour – there really wasn't much more you could ask for.
"It doesn't feel like Christmas until the Boat Parade," said Amy Moore, who lives near Christiansted and doesn't miss the event.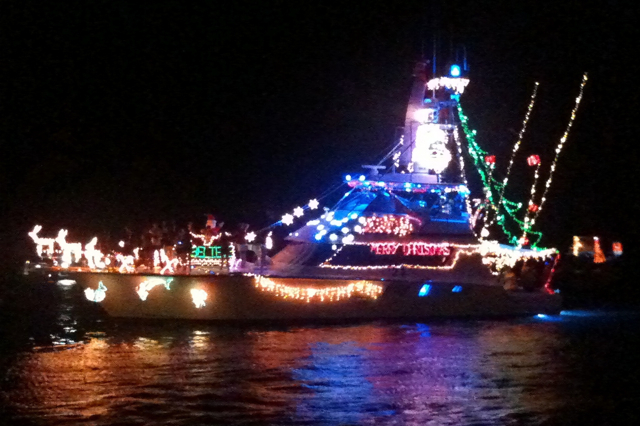 Her uncle, who gave his name as Sandal Claus, agreed that the parade is not to be missed; this year brought friends visiting the island to enjoy it. He said it's a must-see event.
"If you're down here, stay a week longer and arrive a week earlier, but you've got to see it. It's worth it," said Sandal Claus.
Jimmy Schuck who, with his 8-year-old daughter Annie, was crossing the lawn by the fort before the parade started said he's seen practically all of them, and Annie has seen every one since she was born.
Annie said the best part was "seeing the boats, and the decorations, and the fireworks."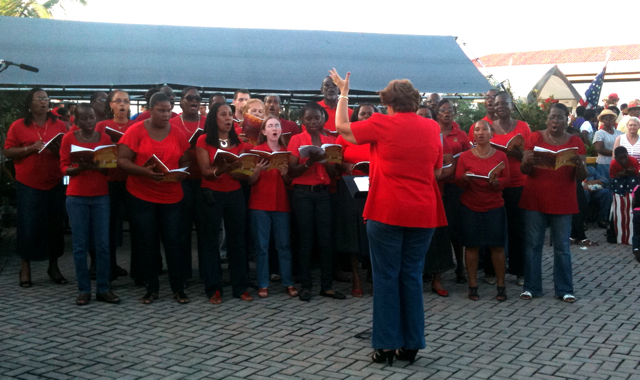 There were 21 boats on display this year – one more than last year – and they ran the gamut from small fishing boat to pretty good-sized party boats. All were decked out, not with boughs of holly, but with hundreds and thousands of lights twinkling green, red, blue, and white. Most featured music. One boat carried musicians playing classic Christmas carols on brass instruments.
One of the liveliest party boats in the parade had a live band with the singer doing a very good rendition of "Love Machine," in a holiday style, of course.
The parade was preceded by a fly-over by four planes from Seaborne Airlines that brought the crowd to its feet – especially the small kids who roared with excitement at the sight.
Musical performers included the Rising Stars Steel Pan Orchestra and the Combined Choirs of the Southgate and Calvary Baptist Churches, the latter finishing up with a rousing rendition of Handel's "Hallelujah Chorus."
Combined with the food court taking up a whole block of the street in downtown Christiansted, merchants hawking their wares all up and down the boardwalk, and the governor and first lady's annual children's holiday party taking place at Government House, you've got a mass of holiday revels that brought thousands into town and kept them smiling all day long.