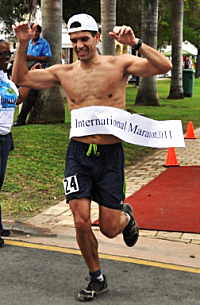 Despite taking on last year's 50-mile Ultramarathon and running countless times on visits to St. Croix, Jason Wiley will never get used to the Caribbean heat.
"It's a beautiful course but I'm just not used to the heat – it's hard to train for and it's not something I think I can ever prepare for," Wiley said.
With a sky full of sunshine and wind blowing heavily during part of the Frederiksted course, Wiley, of Phoenixville, Penn., still finished with a time of 3:22 to claim the top prize in the 10th St. Croix International Marathon in Frederiksted Sunday.
Nashville, Tenn., resident Maureen Manning finished as the top female for the second year in a row, with a time of 3:39:08.
"It is a beautiful course here," Manning said. "I liked starting early while it's still dark because of the heat, and even though it's humid in Nashville, I still have to prepare for the humidity here."
The two races, a full 26.2 mile marathon and a 13.1 mile half-marathon, are an annual event on St. Croix, which started in 2001 as the first marathon in the U.S. of the new millennium, held on 01-01-01.
This year's marathon drew just nine runners total, with more than 40 taking part in the half-marathon.
Claudette Richards, who handed out oranges and drinks after the race, has been volunteering for the race for the past eight years and loves it.
"I really like helping people," Richards said. "It's the only day that I will actually give up church for throughout the year."
First-time competitor Diego Moreno-Panesso, a Colombian attending college in Puerto Rico, came in first for the men's half-marathon with a time of 1:13:30, beating last year's champion, Juan Robles, by a minute and 19 seconds.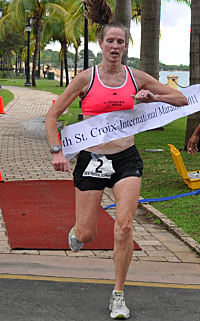 "I'm really happy I won, but I pushed too hard – my legs are sore," Moreno-Panesso said. "It's very humid and hot here, in comparison to Colombia."
Being under the weather for the past few weeks didn't stop four-time St. Croix marathon champion Theresa Harper from claiming the top spot for the women's half-marathon in 1:43:15.
"I went into this race without a time goal and decided if I felt good, I was going to push it," Harper said. "So I pushed as hard as I could and had a great time."
The marathon started while it was still dark at 5 a.m. near Plaza West, where runners proceeded to the town of Frederiksted, then onto the Vincent Mason Pool (about the 10k mark), where they turned around and headed back to town toward Ham's Bay, up Mahogany Road and into the rain forest. From there, runners headed back to Frederiksted again, went back to Ham's Bay, and finally finished up on Strand Street near the waterfront by the pier.
The half-marathon started at 6 a.m. in Butler Bay, the halfway point of the marathon and took the same route as the latter half of the marathon, finishing up at the pier.
Organized by the V.I. Pace Runners and sanctioned by the V.I. Track and Field Federation, the race offered aid stations with water and Gatorade about every mile and a half. Additionally, the runners were able to pick up PowerGel packs on the course.
One man came to St. Croix for the first time to run his 643rd marathon. Andrew Kotulski from Montclair, N.J., can't seem to get enough. At age 72, he has competed in seven continents, 82 countries, all of Australia's states and territories, and has raced in the 50 states six times.
According to the assistant race director for the V.I. Pace Runners, Orville James, Kotulski began running in 1976 in New Jersey and never stopped. Two weeks ago, he ran in Nevada and at the end of the month, he heads to Jacksonville, Fl. His time was 4:51:59, although 30 years ago, at age 42, he hit his record of 2:38.
"Great course. It's very scenic and shady," Kotulski said. "Volunteers at the aid stations were great!"
To see a full listing of results, please visit the V.I. Pace Runners website.