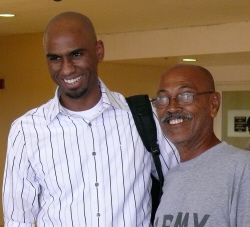 Orlando Santos, a Crucian native living in the States, has flown into and out of Henry E. Rohlsen International Airport lots of times. But Sunday was the first time he had ever come through the arrival gate to be met by a mob.
Santos is a celebrity chef featured this fall on the Bravo TV show, "Top Chefs: Just Desserts." He is executive pastry chef at Pittsburgh's exclusive Duquesne Club and owns his own business, Orlando's Chocolate Treasures.
And this week he is the featured celebrity for a pair of fundraising events for Crucian Heritage and Nature Tours (CHANT). So when he flew in Sunday afternoon, he was met both by a crowd of family members, friends and CHANT members, all eager to see him.
Frandelle Gerard, executive director of CHANT, has a schedule laid out for Santos that will keep him hopping for the next week, including visits to local schools to talk to students, a Wednesday visit to the Farmers Market, where he and other participating chefs will pick out the freshest local produce for their creations, and the events themselves.
On Wednesday, a private dinner will be held in a home in Cane Bay. Santos will prepare the six-course meal offering his contemporary takes on Crucian classics. The fundraiser will cost $1,000 a plate, with a maximum of 35 meals to be served.
Local professional and amateur chefs will join with Santos Friday to present "Crucian Fusion – Traditional Gone Gourmet," a food show at Fort Frederik, featuring local cuisine in a whole new light. All proceeds will fund CHANT'S activities.
Tickets for the Crucian Fusion are $50 a piece. Special early admittance tickets cost $75. Santos will present a Caribbean-inspired dessert to those attending.
Santos's flight landed on St. Croix at 3:30 p.m. The very first person off was Congressional Delegate Donna Christensen, who was on her way to a science conference at Salt River and did not know she had been sharing a flight with a celebrity chef.
Santos was one of the last to come through the glass doors, and was immediately inundated with well-wishers. A strikingly thin, elegant man with shaved head and very trim beard, his smile never faltered as he accepted hugs, handshakes and hellos.
On hand were his father, Enrique Santos, grandfather Fritz Tutein, mother Diane Tutein, sister Diana Tutein and other relatives, along with Gerard and Sandra Phaire from CHANT.
One of the people on hand to greet him was Brownie Rhymer, who taught Orlando in the seventh grade. She denied having anything to do with his culinary skills – "I can barely open cans," she said – but said he was always creative.
"He was a bundle of energy," she said, looking at the tall chef and seeing the small boy he had been. Watching him compete on the show this fall, she said she marveled at how all that energy has been channeled. "His work is so elegant and stylish."
Asked if he would have a little down time anywhere in the next week to sit and talk about the experience of appearing on "reality" television, Santos laughed and said the question would have to be directed at Gerard.
"She's got my schedule this week, she's the boss," he said.