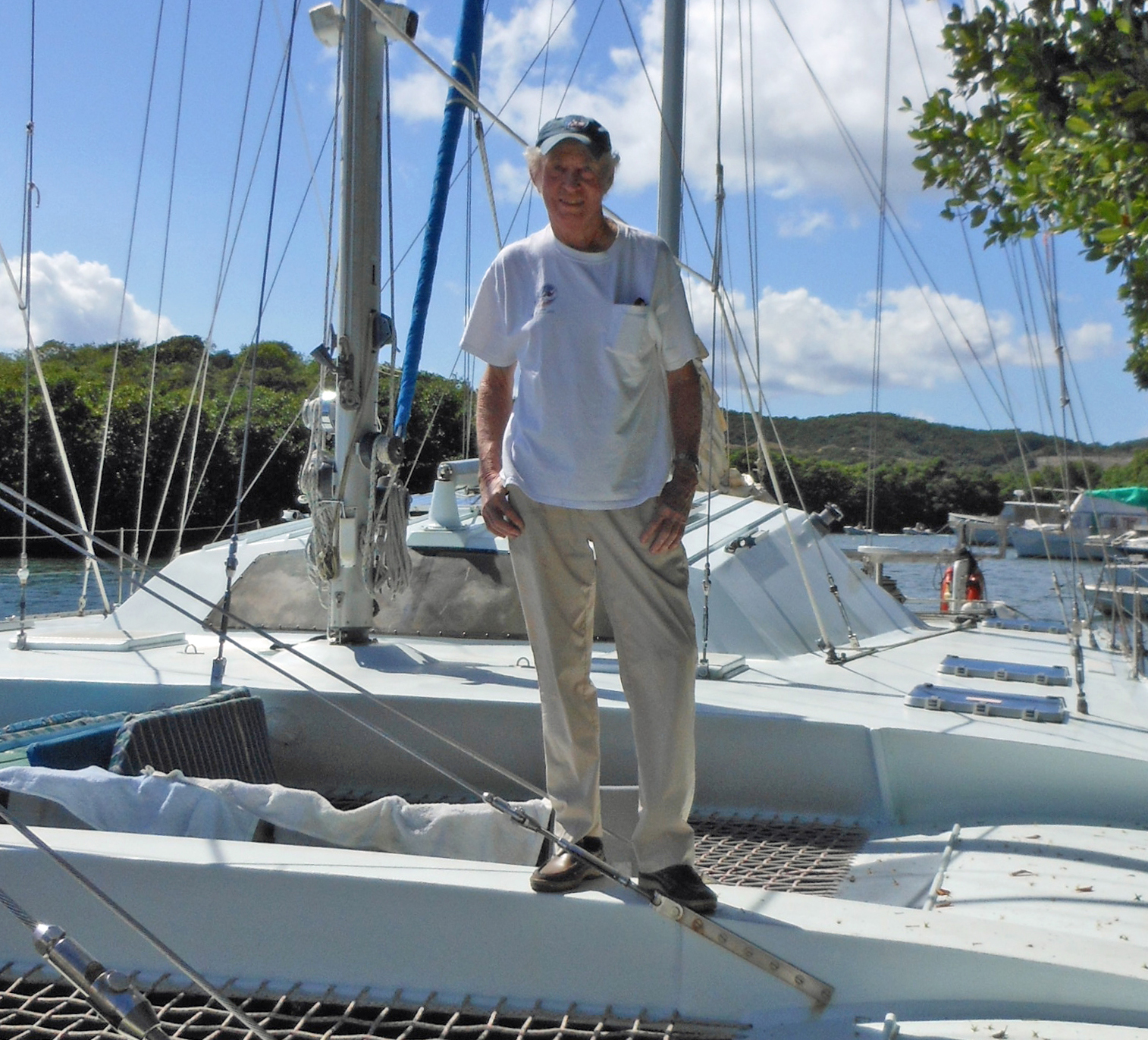 When you say sport fishing in the Virgin Islands, you say Capt. Jimmy Loveland. The name is synonymous with the sport. It's in his blood.
Loveland grew up on the docks of the Miami City Yacht Basin's famous Pier 5, working for his dad, Stewart Loveland, on his fishing boat, selling bait, mating, and washing down the boat.
Loveland reflects on his long, wet career with his faithful companion Lilly, a lab mix, listening to very word, while cat Caitlin sleeps through it all beneath Loveland's desk at Treasure Isle Cruises, the tour company Loveland launched in 1971.
His red hair has turned a bit gray, but the blue eyes are just as bright as when he first hit these shores in 1964, where he has become a fixture in the sport fishing world.
Loveland is soft-spoken, measuring his words carefully, as he begins to talk about, well, everything. It's a lot to tell.
He got his captain's license at the tender age of 18, in Miami, the youngest captain on the dock. "People would come and ask me 'where's the captain'?" he says. "I grew up with the best captains, legends today, like Buddy Carey." He points out an old photo of Pier 5, displayed on a wall filled with posters from the USVI Open/Atlantic Blue Marlin Tournament (ABMT) Boy Scout Tournament, which Loveland has run since l980.
It was on these same docks in 1963, that Capt. Johnny Harms spotted Loveland and asked him to come to work in the Virgin Islands running a sport fishing boat. "I said sure," he recalls. "Where are they?"
When Loveland went home to tell his wife, they hauled out their atlas. "That same one right there on the shelf by you," Loveland points out, indicating a weathered volume. Lilly looks up, as though to confirm it.
Loveland thought he had found paradise upon arriving on St. Thomas, a notion he still holds. "The finest fishing waters in the world," he says. "Fishing between here and the British Virgin Islands, you almost knew every fish, every rock."
Harms had been hired by Laurence Rockefeller, owner of the Caneel Bay resort on St. John and Little Dix Bay on Virgin Gorda, to explore sport fishing in the area. Rockefeller had high-profile guests, and he figured, accurately, sport fishing was the lure to entertain them.
Harms had a boat, the Savannah Bay, waiting for Loveland. "We'd fish every day," Loveland says, "250 days a year. We never knew what we would see."
In 1968 Loveland purchased the 54-foot Fish N' Fool, sailing it down from Miami. Today, the Treasure Isle Cruises are on the Spirit of St. Christopher, a spiffy 76-foot catamaran, docked next to the Fish N' Fool at his marina. Hiking down, Loveland's affection for the old vessel is obvious. He pats it as he would a beloved pet. "I'll have to take her out and deep-six her one day," he says.
The boat is, in fact, part of local history. Between watery endeavors, Loveland purchased the famous Sib's Mountain Bar, which he ran for 17 years, selling it in 1994. It was on a charter in 1976, that the now traditional music fest October Sunday was born, when Loveland suggested to Polly and Fred Watts, who were entertaining all aboard with folk songs, that it would be a great idea to share the talent. With that, the first October Sunday was soon held in Sib's parking lot, and continues today at Magens Bay.
Now, Loveland gets to his passion, the prestigious internationally recognized Blue Marlin Tournament, known familiarly as the Boy Scout Tournament, which it benefits. Local angler Chuck Senf started the Tournament in 1972 as a vehicle to spread the word about the V.I. Marlin fishing. Senf passed away in the mid-1970s and Loveland took over in 1980. The tournament has netted three of five world-record fish.
It is Loveland's life. "I knew I could do it," he says. "The energy was waning then, and I knew how to bring the local boat owners and those in Florida together. Also, I wanted to change things, to start releasing the marlin, rather than boating them. That was hard," he says.
The ABMT became the first fishing event in the world to release fish. Since the development of its "modified release" format, there have only been three blue marlins put on the dock, tournament winners.
The 37-year-old ABMT is well-organized with dedicated volunteers. Along with the annual tournament, Loveland has developed the Bermuda Triangle and Spanish Main series of tournaments.
His heart is with the kids the tournament benefits.
"We have so many bright young Virgin Islanders," he says. "I am optimistic about our future. These kids will be better guardians of the culture. They have learned to swim, to dive, to be part of tourism. They help us in all aspects of the tournament."
A highlight of the organization is the BSA Marine Vocational Program, started in 2007 and funded from the offshore tournaments and private donations. So far, 45 students have become PADI certified divers. Two are now assistant instructors and four have become dive masters and are now earning money in the local tourist industry.
Also high on his list of accomplishments the ABMT's handsome, professional website, which Loveland took over in 2004, and now boasts 48,000 unique visitors.
"All our profits go straight to the BSA," he says. "We take in between $80,000 to $100,000 a year, with tournament entry fees, T-shirts, web page ads, banquets, and ad revenue from 'On the Edge,'" the organization's glossy annual publication, again put out by volunteers, namely Loveland, Sue Boland and Jeff Kriener. "We are starting tomorrow, on next year's issue, our sixth."
With that in mind, Loveland and Lilly bid an amiable adieu.
Related links: http://abmt.vi/
http://www.treasureislecruises.com/Day_Trips/Sailing/sailing.html