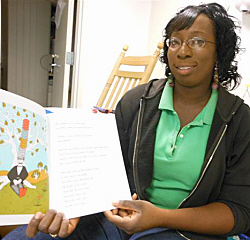 The classroom in the Head Start Multipurpose Center in Sugar Estate Saturday morning is filled with adult voices reciting familiar children's rhymes: "One, two, buckle your shoe."
Inside, parents, guardians and caretakers are learning how to read to and engage with their children in an interactive way, the heart of the Mother Goose programs.
Saturday's workshop is part two of the training workshop, "Beginning with Mother Goose," designed for parents to better communicate with their infants and toddlers.
Yes, even infants respond to reading, perhaps with a contented gurgle. Children love to be read to, no matter the age. They love the attention and the sound of the word, the rhymes and songs. "They respond to the beauty and fun of language," says Jane Sheen, a retired 30-year St. Thomas public school teacher andveteran of the program.
Saturday's other trainer is Kimberly Thomas, a 27-year-old Head Start teacher who began with the program last fall.
Mother Goose is a national program, created by the Vermont Center for the Book, aimed at encouraging reading to kids to instill a love of books and language, stimulate the imagination and provide an opportunity for closeness between parent and child. According to the Mother Goose Programs website, the National Commission on Reading noted in 1984 that "The single most important activity for building the knowledge required for eventual success in reading is reading aloud to children."
The local program is administered under the Virgin Islands Institute for Teaching and Learning, a not-for-profit organization founded in 1994 by then-Education Commissioner Linda Creque. Its mission: "Creating a generation at promise, not at risk."
It is funded primarily by United Way. Participants are given a free set of 10 children's books and a family activity guide. The books include tips: When you read, turn off the radio or TV; if there is a rhyme in the story or a song, sing with your child; toddlers learn by watching, so play finger games like "pat-a-cake."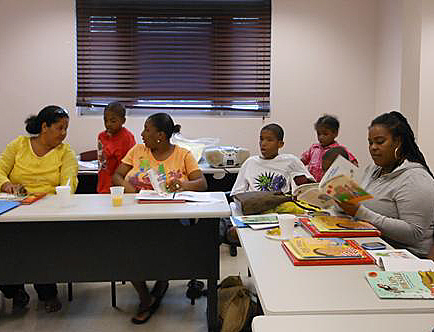 Along with the training books, the program provides beautifully illustrated books including "Here Comes Mother Goose," edited by Iona Opie and illustrated by Rosemary Wells.
The program is open to parents, daycare providers, family members, and even dads.
The parents at the Saturday workshop are mostly young mothers, and one dad. Though the workshops are for adults, there's a smattering of children who attend when no babysitters are available.
The workshops are divided into four categories. Saturday's introduces sounds, words and language. The other three are: "Mother Goose Asks 'Why'," an early literacy science education program explains concept of science to children aged three to seven years; "You Can Count on Mother Goose," introducing numbers, shapes and problem solving; and "Especially for Dads, a newer program incorporating children's books which relate to father/children issues.
Thomas, who holds an associate of arts degree from the University of the Virgin Islands in early childhood education, says she will be returning to earn her bachelors degree. But for right now, she is busy with teaching at Head Start and volunteering at the Mother Goose program.
She loves teaching. "It's what I've always known I would do," she says. "My mother was a baby-sitter, and I've loved teaching from when I was young. In fact, I can see myself at 70, still working with kids."
As Thomas talks, it's easy to see her natural abilities.
"It's very important to teach the parents how to read to their kids," she says. "At first, they really have no idea. They want to just sit there and read in a monotone. It's important to teach the parents to alter their tone of voice, their posture, gestures, eye contact. That's how you get the children engaged."
Saturday's training had plenty of just that. At one point, the adults were standing up, reciting the familiar "I'm a little teapot, short and stout/Here is my handle, here is my spout," incorporating the appropriate gestures, hands on hips, bending over to pour.
Sheen leads Saturday's session with an obvious love of language, which hasn't abated over her lengthy teaching career. To illustrate her point, Sheen tells the group, "I'm going to read you something that makes no sense at all . It's the total foolishness of language."
With a serious look, she intoned: "Twas brillig and the slithy toves/ Did gyre and gimble in the wabe./All mimsy were the borogoves/And the mome raths outgrabe."
Smiles slowly appear on the faces of the group of about 15 or so, as they pick up on the rhythm of the playful lines. "That's 'Jabberwocky' from 'Through the Looking-Glass and What Alice Found There,' by Lewis Carroll, who wrote 'Alice in Wonderland,'" Sheen explains.
Sheen says the classes meet in different locales where local businesses lend them space. "We held the last Dad's class in a conference room at Home Depot," she says. "And the Paiewonsky family lends us a space downtown."
The group does all its own training. Jane Higgins and Cynthia Richards make up the complement of four current trainers. "We went to the States for a four-day training workshop when we first started," Sheen says, "and occasionally national trainers will come down, but basically we do our own training."
Building on Saturday's experience, the participants in the workshop will fill out an evaluation sheet, asking how beneficial they found it and soliciting suggestions.
Anyone interested in the training can call Janet Alexander, program administrative assistant at 777-7030.