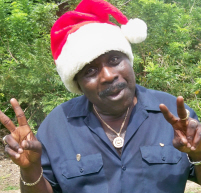 VIPD Officer Charles Nibbs and his wife, Anita, co-founders of LuvKids, will be playing Santa and Mrs. Claus and giving out gifts to needy children on St. Croix shortly before Christmas. For 25 years they have dug deep into their pockets and maxed out their credit cards to help make youngsters' lives brighter.
"It hurts my heart to see any child go to bed hungry, naked, or abused," Anita says. "That's the reason why we help children as much as we can. Our name LuvKids speaks for itself."
Charles estimates LuvKids has served around 15,000 kids not only at Christmas but year-round with food, clothing and necessities. Charles says they are seeking monetary donations at this time to purchase educational gifts.
"Santa gets his list of names from caring neighbors, friends of the families, concerned citizens, and local agencies affiliated with LuvKids over the years," Charles says. "Churches also refer families to LuvKids."
He added the numbers they serve are increasing because of continued referrals by kids, parents, and grandparents who passed through LuvKids Television and Radio Productions.
LuvKids Television and Radio Productions started out as a kids' safety show on radio WSTX and a television show on Channel 13. Charles says he has a background in broadcast media and still does some public service announcements. In 2004, they became incorporated as a local non-profit organization under the lieutenant governor's office.
"Our goal is to see that children are loved and feel safe and secure during their formative years," Charles says. "Our purpose is also to deter juvenile delinquency and help prevent child abuse in the community."
Charles has been in the V.I. Police Department for almost 25 years and has been called upon to testify in child abuse and neglect cases. He has seen firsthand in some homes the abuse children suffer, and in other homes he sees what some children lack. He works in the office of St. Croix Police Chief Christopher Howell.
Charles speaks regularly to different groups on crime, abuse, peer pressure,bullying and related topics and collaborates with a number of other groups. He has mentored boys at the Men's Carousel put on by the St. Croix Career and Technical Education Center Parent Advisory Committee. He added he gets calls from local church youth groups to help with things such as parent/child workshops and mentoring.
The couple doesn't do counseling, but they will refer families to different agencies that help with specific problems. LuvKids hotline/helpline number is 332-6300.
Charles says he can attest that things are better for kids they visit on routine house calls.
"The future will look great for youths if they receive sincere support from family and existing youth support groups and organizations," Charles says.
For more information regarding donations and LuvKids Television and Radio Productions call (340) 332-6300, or e-mail kidsluv@rocketmail.co