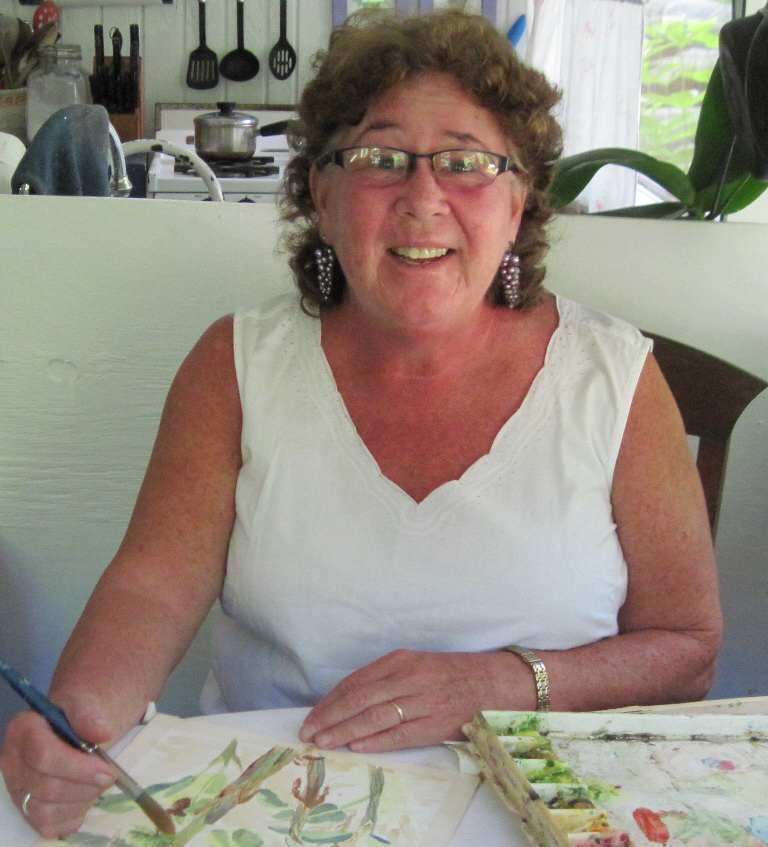 Jenn Robinson, like most of her St. John artist colleagues, is inspired by nature. She translates that inspiration into a variety of pieces done in watercolors.
"It was a medium I always loved," she said.
Many of her works are St. John sea- and landscapes. Others she paints on a summer hiatus to Martha's Vineyard or reflect the wishes of those who commission her works.
Robinson, 58, first started painting when she took a watercolor class at Maho Bay Camps just after Hurricane Marilyn hit in 1995. Her interest was piqued but her efforts languished until she took another class and then another. She finally made time in her life to pursue this creative outlet, and she and friends began painting together.
"The more you do it and the more you practice your craft, the more you develop," she said.
She's come a long way since those early days and now exhibits her works at occasional shows, at Best of Both Worlds in Mongoose Junction and at Ronnie's Pizza.
Yes, Ronnie's Pizza. Owner Ronnie Klingsberg has an interest in art and uses his walls to showcase the works of St. John artists.
She's expanded her usual framed pieces to include lanterns, tiles and even did the floors in her Coral Bay house.
While Robinson always had a creative side – she's done a lot of photography – it's really blossomed on St. John.
Like most St. John transplants, there's a story behind her arrival. After growing up in Holden, Mass., she graduated with a bachelor's degree in English from Nasson College in Springdale, Maine. She taught a couple of years in Barton, Vt., but the sea beckoned so she moved to Martha's Vineyard and worked in retail. From there, she was off to Breckenridge, Colo. to be a ski bum.
But, she said, "I missed the ocean."
She returned to the East Coast, working in Portland, Maine in the restaurant business.
She met up with friends who were sailing the Bahamas. When they moved to St. John, she moved too. That was 1988, and she's been here since.
"The first night ashore in Cruz Bay, we went to the Lime Inn for drinks," she said.
That was the first place she applied for a waitressing job, but there were no openings so she worked for two years at the Virgin Grand Hotel, now the Westin Resort and Villas. In 1990, she started working at the Lime Inn, where she still waitresses four nights a week and does the lunch shift on Tuesdays.
"I like the days because I see a lot of local people," she said.
When she's not at the Lime Inn, she spends time with her husband of more than a dozen years, Ashow Modest, and of course, painting.
As for the future, she doesn't see any big changes coming along.
"St. John is home," she said.