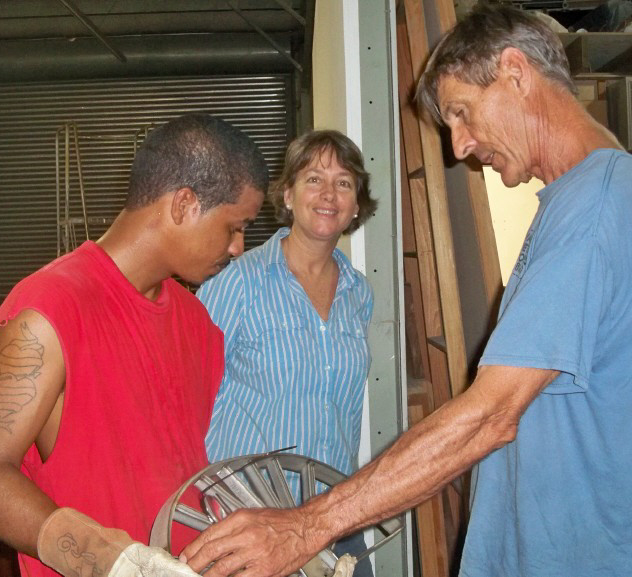 Barbara and Mike Walsh do what they can when they can for the St. Croix community and the Caribbean. If an art show is a fundraiser for the environment, animals, or the plight of people, the Walshes have generally lent a hand offering the Walsh Metal Works Gallery as the venue.
The gallery in Peter's Rest is a unique, large exhibition space carved out of an industrial metal fabrication facility owned and operated by the couple. They saw a need for a contemporary Caribbean arts space that could accommodate large artworks, installations and art events in the Caribbean.
They have hosted several not-for-profit shows and events since opening the gallery in 1998.
The Walshes helped put on the "100 Days, 100 Artists, 100% for Haiti" fundraiser 100 days after the earthquake hit Haiti. There were 150 pieces of art for sale with 100 percent going for Haitian relief. They gave gallery space for the Sunshine Foundation low-cost, spay and neuter program "Art for Animals" show and a fundraiser for Ten Thousand Helpers homeless shelter.
Barbara says the Women's Coalition is the organization most near and dear to her heart. She said she was moved by the devastating fire in the crisis center and the theft of electrical wiring in the coalition's newest office that was about to open. "They have been helping others for 30 years and now we have to help them," Barbara said.
In November the Women's Coalition is holding a private "Dress for Success" back to work event at the gallery. It is for clients and Project Link graduates who have been given a second chance at getting a high school diploma. Barbara will have the gallery all straightened up for the organizers to bring in racks of gently-used donated business attire for women. They will have workshops on job interviewing, resume writing, and business etiquette.
Barbara said she works closely with the staff at the coalition, she added she enjoys working with them. "We are lucky to be able to share our space and do whatever we can to help the coalition that has been serving this community for 30 years," Barbara said.
Debbie Benjamin, organizer of "Dress for Success" said the couple is very patient with them and helpful. "They are just awesome to work with," Benjamin said. "Barbara is a powerful force with ideas and vision." The coalition also does mass mailings, meetings and such in the gallery
Mike moved to St. Croix in 1976 to work at Life and Environmental Arts Project (LEAP) in the rain forest. He supervised the furniture/art facility in the program which brings together locally harvested tropical hardwoods and the talents of local artisans as a training program for local youths.
Mike said he liked the local people so much he decided to stay on St. Croix, and in 1978 began his own company, Walsh Metal Works. Walsh Metal has grown from one to nine employees, and continues to provide the Caribbean with industrial, architectural and residential metal fabrications.
"After Hugo, the metal works really took off," Barbara said. She said their tag line is "the best insurance is the kind that keeps the roof on." She said the metal works is really their bread and butter.
They fabricated much needed post and beam connectors, roof connectors, hurricane straps, railings and staircases. They also make functional accents for the home such as shutter hooks, historic hinges, gates, grill work, and decorative architectural metal accents and finishes.
Barbara moved to St. Croix from Santa Barabara, Calif., in 1976. She owned and operated a clothing store in Christiansted up until Hurricane Hugo, after which business dried up and she closed it. She joined Mike at the fabricating and metal works as office manager and treasurer of the company.
The gallery at 14AB Peters Rest has been host to performance art and dance as well as large-scale sculpture, installation art and large artist retrospectives containing dozens of works. There is generally some type of art show going on at the gallery with international and well known local artists such as Toni Lance and Luca Gasperi. Lance will have a show at the gallery in February.
Mike's sculptures have a broad range of influences in modern and ancient tradition, and vary greatly in scale. His education and broad work experience have afforded him exceptional technical proficiency, allowing him to take on challenging problems in his work. Mike, a well known local artist, works with a variety of techniques and materials; wood, bronze, stainless steel and iron, as well as works on paper.