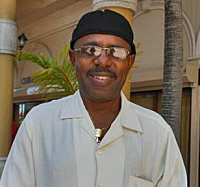 Bruce Flamon is a big, confident guy with a ready smile, always open for a new idea that will help people.
He is a one-man band of community activity. Since he moved to St. Thomas from his native Chicago in 1998, he hasn't missed a beat.
The owner of Flamon's Taxi & Island Tours, "Chicago Bruce" took time after a job fair at the Windward Passage Hotel recently to talk about his latest project, or at least one of them.
He has partnered with the managing director of Magic Ice, Kirsten Marie-Holmen, to provide taxi service for her unusually untropical gallery, Magic Ice, due to open in December. The gallery will display sculptures created out of tons of shipped-in Arctic ice. Flamon will provide taxi-tour service from the ships.
"The morning went really well," Flamon said. "About 35 applied, and we'll call about 10 back." The hires will work in the gallery as guides, and for Flamon as dispatchers and greeters at the dock and at the gallery.
A retired 20-year Chicago firefighter, Flamon had met fellow firefighters on previous visits to the islands. They invited him back, and when the moment was right, he took them up on it.
His first enterprise was a food truck with flair. "I loved to cook in the firehouse in Chicago," Flamon said, "and I decided to bring some of that cooking here." So, Flamon's Grilled Chicken and Turkey was born. "With collard greens and cornbread, too," he added.
It wasn't long, however, before Flamon fell into what has to be his natural calling – meeting people and greeting visitors firsthand. Though a transplanted Virgin Islander, Flamon has taken it upon himself to make visitors feel at home on the island, especially on Christmas Day: he is now the official Santa.
Flamon said he had noticed something really bothered him about his adopted home. "It was Christmas, and there was no snow. I had a hard time getting into the holiday spirit at 85 degrees," he said. So, he did something about it.
"I got a Santa suit, and went down to Main Street Post Office Square and handed out gifts," he said. "It didn't really cost me anything – I always had stuff folks would leave in the taxi — souvenirs, hats — then I offered folks a free tour of the island. At first, people were skeptical, but then it blossomed."
The always enterprising Flamon engaged the Main Street merchants in the project, and over the past six or so years, it's grown into an island tradition.
"Last year we gave out $6,000 of donated gifts," the jolly Flamon said, "Everything from hotel overnight stays to certificates for jewelry."
Monique Hodge, assistant tourism commissioner, whose department promotes the project, said, "Bruce is the only reason I get out of my bed before noon on Christmas Day."
In 2006, Flamon enrolled in a University of the Virgin Islands program aimed at enhancing visitors' experience with accurate information about the history and culture of the islands.
"I had heard drivers telling tourists all sorts of misinformation," Flamon said. "I knew it wasn't accurate. This program was excellent. We learned lots of history and got the facts firsthand."
To receive certification, graduates were tested on V.I. history and culture, points of interest and presentation skills.
On the heels of graduating, Flamon formed the Certified Tour Guide Association, comprising about 30 drivers from the UVI program. "Now, they give the visitors correct information with a courteous presentation," Flamon said.
Last year, Flamon, a member of the V.I. National Guard, 661 MP Company, extended his conviviality to Kosovo on a one-year assignment. "We visited schools and churches. I even sang in the choirs.
"I can't sing," he warnd, "but I make a joyful noise."
The normally ebullient Flamon said his life also took a significant change about eight years ago. "I had some personal issues," he says, "and I joined the Word of Faith church. I'm now a born-again Christian. It's a blessing."
Earlier this year, he conducted what has to be his most unique tour, for 49 blind and partially-sighted people. A Michigan tour operator contacted Flamon, and the tour was on its way. Flamon said that he and the other tour guides – an 11-car motorcade – modified their narrative to take into account the fact that most of the group could not see the sights.
"We described the colors and shapes of the trees, the water, the creatures, like iguanas," he said. "When we got to Bolongo Beach, we got a complimentary lunch, and then we waded in the ocean. They loved the experience."
Suddenly, it's time to go. Flamon has more stories to tell, but it's off to a Carnival cruise for "Chicago Bruce."
Chicago? "Yes," he said, "I take these cruises down-island where we have a network of taxis. I have to see if the tour operators are selling 'Chicago Bruce.'"