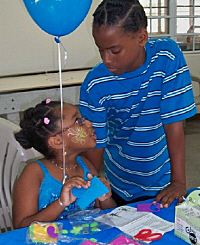 Painted, smiling faces, blue balloons and gift lunch bags were early rewards for more than 100 youngsters who completed Gov. John deJongh Jr.'s Summer Reading Challenge program as they gathered in the recreation building in the D.C. Canegata Ballpark on St. Croix Sunday.
The speakers honoring the students who had read five or more books this summer – Malcolm McGregor, assistant to the governor; Marie Encarnacion, deputy commissioner of the Department of Education; and Ingrid Bough, territorial director, Libraries, Archives, and Museums — emphasized the long term rewards.
"Read for success. We read together and we will succeed together," Encarnacion said as she addressed the families attending the invitation-only affair.
The Fun Day for the youngsters marked the closing of this year's governor's Reading Challenge program now in its third year.
Similar ceremonies are set for St. Thomas at Emancipation Garden and on St. John. The St. John ceremony will be held on the Discovery glass bottom boat at the National Park Dock.
The students were called to the stage one by one and awarded ceremonial medals on a yellow ribbon.
Patricia Anderson said the challenge inspired her children to read. "My son read just because it was a challenge," Anderson said. "At least he read. My daughter was all over it, she loves to read."
The program was launched on May 18 and was open to the territory's public and private school students between kindergarten and 6th grade.
"As part of a wider administration focus on reading and literacy, the Summer Reading Challenge encourages children and families to spend time together exploring the worlds of the imagination through reading and the love of books," deJongh said in an earlier press release. He was not able to attend the St. Croix event because of a conflict in his schedule.
The students were to read five books on-line, hardbacks and paperbacks by local authors that were distributed at libraries and educational events. Denisha Asson, a 9-year-old student at Claude O. Markoe Elementary School, said she read 35 books. She said being in a challenge made reading fun.
Students were entered in a drawing for a Nook eReader, an iPad, and round -trip tickets for two to Puerto Rico on Seaborne Airlines. The bookmobile was on site and open for tours.
The Governor's Summer Reading Challenge is a partnership of the Office of the Governor, the Department of Education, the Virgin Islands Public Libraries and Learn-It Systems Corporation.