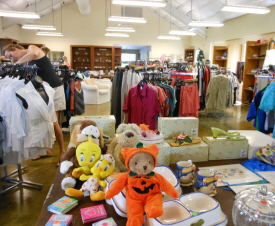 The star of this year's Humane Society of St. Thomas Barktoberfest – the 10th – wasn't a dog or cat or even one in a beguiling costume – it was the beautiful, brand-new No-Flea Boutique, in the making for years.
It is the well-loved hang out for bargain hunters and animal lovers, the faithful who still trudge out to the shelter's woebegone Nadir digs.
No more. Folks were bursting into the boutique Sunday, poring over treasures with, well, not squeals of delight, but something very close.
Perhaps happiest were Rhea Vasconcellos and Lindy Scaneickert, stalwart shelter volunteers with 10 years each under their belts. Vasconcellos was happily ringing up sales to a line of customers clutching bargains. "Just look at this," said Brenda Sylvia, as she held a fancy flowered bustier up for Vasconcellos to inspect. "Wow," they both agreed, it was pretty sexy.
The effect wasn't immediately apparent, as Sylvia's face sported a black bull-dog nose and whiskers, a look, she said, to complement her rescue dog Lucy, dressed as a ballerina.
Scaneickert, who can usually be found scurrying around the Nadir shelter's dilapidated book room, sorting the overabundance of stock, lamented the current lack of bookshelves in the new quarters. "But, we'll be moving in more shelving, soon," she said, clearly delighted with the new quarters.
The boutique, the largest source of operating revenue for the society, abounded with designer clothing, accessories, linens, kids' outfits, shoes, books and household items. It will be open weekends only until the Campus officially opens in late November.
Andrea Martin, a five-year board member, is the society's new board president. Joe Aubain, for whom the new campus is named, stepped down from his 10-year run as Society president this year, though he retained his post as chair of the Humane Campus committee.
Both of the society veterans had their hands full Sunday as about 200 folks poured into the new campus, conducting tours, herding pets and pet owners to the doggy dress-up contests, and answering questions for a bevy of volunteers and guests.
The campus tours feature the cutting-edge sound- and odor-contained kennels, where each dog will have complete privacy; dog play areas; a real cat house complete with window sills; dog runs; a dog-walking path where members can bring their own dogs; an on-campus animal-treatment center; and an area for the Police K-9 unit.
Ground was broken for the new campus in June 2006. At the time, the opening was projected for 18 months — early 2008. Each year, the ever-optimistic Aubain gives a confident smile, and announces yet another date.
This year it looks to be the last time for that particular presentation. Martin and Aubain say Thanksgiving is the big date. Aubain said inspections for a Certificate of Occupancy are scheduled for next week.
Martin said they hoped to raise $15,000 Sunday. It was too soon to say at 5 p.m., when the cleanup had just begun. As for her new job, she said with a smile, "Well, I'm not getting as much sleep."
A red and white mobile spay/neuter unit, donated by the Animal Rescue League of Boston to the Virgin Islands to facilitate Operation End Overpopulation last year, was on display this year, offering microchipping. At day's end Martin said she wasn't certain if they had any takers. However, she said four dogs did find new homes.
Doing a business almost as brisk as the boutique was a new offering this year: $15 haircuts by Phoenix Visions Hair Design. Owner Annette Zachman and stylists Liz Frank and Aisha Watley spent the afternoon busily lopping off the locks of a steady stream of happy-looking clients, perhaps none more so than Frank Allard, WTJX TV associate producer, who lost about 13 inches of soft, curly black hair.
Why, one has to ask? "Because It's 90 degrees?" No, that won't do. Allard says he hasn't actually done anything this drastic for the last 20 years. With a huge smile, for a relatively huge audience watching the procedure, Allard said, "It's for such a good cause."
Allard's locks will be donated to the "Locks of Love" program. It's a not-for-profit organization that provides hairpieces to financially disadvantaged children in the United States and Canada under age 21 who suffer from long-term medical hair loss from any diagnosis.
Neither Martin nor Aubain wanted to commit to a final price tag for the originally estimated $5 million project, as fund-raising is ongoing. To donate, visit the Humane Society of St. Thomas website.