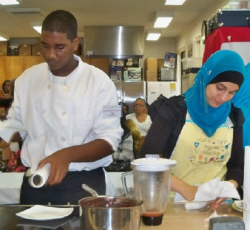 Hundreds of residents spent a gorgeous sunny Sunday afternoon on the St. Croix campus of the University of the Virgin Islands at World Food Day. They attended workshops on peppers and pineapple, purchased local produce and plants and filled up on luscious local cuisine.
World Food Day brings attention to the plight of the hungry and undernourished in the territory and the world. It also provides an opportunity for a deeper understanding of the complex solutions required to reduce hunger.
The entrance fee for the 29th annual event was a donation of canned goods that went to My Brother's Table soup kitchen in Frederiksted, the Light House mission, and Catholic Charities in Christiansted.
"It is wonderful the way the local community supports efforts to feed the underprivileged," Rev. Rodney Koopmans, director of MBT, said. "This donation helps since there are more and more in need and charitable efforts are shrinking." Local students took part in the canned goods drive, filling a dozen grocery carts with nonperishable food items.
In the opening ceremony Kwame Garcia, Sr. State Director of the UVI Cooperative Extension Service, said that 44 million people in the U.S. don't have sufficient food to eat on a daily basis. He said agriculture must be the number one priority everywhere.
Around 36 junior high and senior high school students took part in the fourth annual World Food Day "Youth Super Chef Competition."
The students had to prepare a four course meal using lamb, peppers and pineapple. Sarah Dahl, extension agent for 4H Youth Development, said the students aren't judged solely on culinary skills and taste. "This is a positive youth development activity where students learn the nutritional merits of the products they use in the competition," Dahl said. "They are also learning life skills, such as time management, planning and teamwork."
Jahmani Johnson, a senior in the St. Croix Career and Technical Education Center culinary class, said that competing at World Food Day gives him the opportunity to practice his skills and learn the process of food preparation from planting to putting it on the table.
In the senior division IQRA Academy came in first, second was CETEC and Good Hope School got third place. In the junior division first place went to Good Hope with IQRA and Elena Christian Jr. High School a tie.
A farmers market was set up under red, yellow, green and blue-striped tents on the lawn near the extension office.
Fifteen different vendors sold fruits, vegetables, herbs, canned condiments and sauces. One could purchase all of the local produce currently in season. There were sugar apples, soursop, peppers, cherries, pumpkin, maubi bark and peanuts.
Veronica Gordon, the "Bush Lady," was selling jewelry, bowls and other items she makes from calabash. Dale Brown, from Sejah Farms, was selling all sorts of produce from bananas to pumpkins. Virgin Islands Farmers Coop, Tropical AyAy Nursery and G.L.G. Plants and Produce, to name a few, had fragrant fresh herbs and produce piled high on tables.
There were 15 food vendors selling everything from soup to nuts, plus Sylvia's Smoothie van and the Brothers Fraco truck. To satisfy a sweet tooth, tarts, fruitcakes, carrot cakes, ginger and peppermint lozenges were available to eat there or to go.
The usual local favorite foods like Johnny cakes, stewed pot fish, beans and rice, pates, chicken, and local fruit drinks were sold. Feel Great Vegan Deli had some tasty soy vegan fish stew, macaroni and cheese, and barbecued tofu.
The extension service was giving out complimentary seedlings for little kitchen and container gardens.
Edgar Austrie, Cooperative Extension Services agricultural assistant, said they want every local household to have a vegetable garden.
"This will cut down on imported food and it is fresher and more nutritious," Austrie said, as he helped extension staff give out bags of tomatoes, peppers, okra, basil, and savory seedlings.
There was standing room only in the Great Hall where Thomas Zimmerman, from the UVI Agricultural Experiment Station, gave tips on planting, irrigation and fertilization of pineapples in home gardens. Errol Chichester, deputy commissioner for the Department of Agriculture, gave a workshop on growing peppers at home. There was a petting zoo and Steven O'Day gave rides on Eeyore the donkey.
Guardians of Culture moko jumbies, in pastel colored costumes, stilt danced for the audience of young and old folks. The Rising Stars Steel Orchestra, Ay Aye Cultural Quadrille Dancers, and students from St. Croix Martial Arts Center also provided entertainment.
"This event is wonderful," resident Barbara Gibbs said. "I wouldn't miss this for the world."
UVI's Cooperative Extension Service in partnership with UVI's Agricultural Experiment Station and the DOA sponsored the event as well as Plaza Extra and Gannet Hardware.