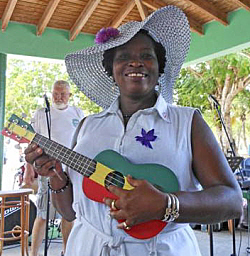 The music was the same – fantastic – many of the faces were the same, as was the generosity of spirit that has carried the musical October Sunday for the past 35 years – and now benefits the Family Resource Center.
That's what happens when you get old friends together – old friends who bring a mandolin, a violin, steel pans, a pliant voice, or many voices, an autoharp, a teenage jazz band, or anything else that makes music – for a celebration of the pure joy of music and each other.
It was a special day as October Sunday celebrated 35 years, while the Family Resource Center celebrated 30, and the stalwart St. Thomas All Stars Steel Orchestra played for its 20th, with a rousing opening concert.
For the last five years, the Friends of October Sunday have partnered with the FRC. All the proceeds from Sunday's event go to support FRC, which is currently trying to raise $130,000 to continue its much needed services, outreach, and counseling for victims of violent crime on St. Thomas.
The genesis of the celebration was 35 years ago when attorney Fred Watts and his educator wife, Polly, were out with local legend Jimmy Loveland on his boat, the Fish and Fool, with a bunch of diving friends when the Watts got to singing songs from the mountains.
"Fred and I were part of the '60s folk movement," Polly says, recalling her days at Swarthmore College when Fred was in law school; she played the mandolin to Fred's autoharp.
Loveland, who owned Sib's Mountain Bar, suggested his parking lot would be a dandy place to continue the singing with an evening of music for everyone. Thus October Sunday was born, and it hasn't missed a beat since.
In true show business tradition, the show has gone on in the aftermath of two major hurricanes – Hugo in 1989 and Marilyn in 1995 – which all but finished off any fun on the island, leaving many residents living under a blue FEMA tarp.
The event has changed venues over the years. It grew too big for Sib's many moons ago, and moved to other locales including Crown Bay landfill, the Reichhold Center parking lot, the Joseph Aubain Ballpark in Frenchtown, and to its current home at Magens Bay beach.
The celebration always seems to be the best ever each year, everybody says so, and this year from morning to evening it was the same story. Legendary musical figure Larry Benjamin was in fine fettle, keeping the beat and singing along with the Pipe Dream Jazz group. He sang the praises of two young violinists – Sweet Strings' Alana Davis, 13, and Isis Collier, 14 – to whom he has listened since they were almost toddlers.
Vivian St. Juste, FRC executive director, in a plea for funding, spoke about the agency's 24-hour service.
"Yesterday," she said, "I was at the Mall when I got a call from a man. He asked what to do for a woman who had just been raped. I told him she should go to the hospital emergency room immediately, and have a rape test," she said. "That's what we do. While you are sleeping we take care. We are always on call."