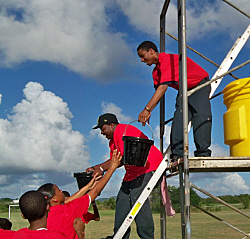 Squads of St. Croix and St. Thomas Firefighters, and the Virgin Islands Junior Firefighters Corps, fought it out Saturday in some friendly competition on the field at Renaissance Park.
The Fun Day and Competition is in its seventh year and wrapped up Fire Prevention Week on St. Croix. Friends, family and the general public cheered on the competitors who also included V.I. Fire Services administrators along with the 30 boys and girls ages 9 to 18 in the Junior Firefighters.
The teams took part in a timed bucket brigade, with team members passing and splashing buckets of water up a line to a person poised on a ladder propped on scaffolding, then up to a person who dumped the water into a large plastic receptacle.
Dressed in full gear, participants did the Dummy Drag relay, skillfully grasping a 145 pound dummy under its arms then dragging it while running backwards for several yards. A couple of the contestants took a tumble, adding to the enjoyment and laughter of opposing teams.
In the men's and women's Dress Out, competitors had to put on full gear and then run an obstacle course.
"We try to perfect our skills in this competition," Cpl. Kevin DeLande said. "Competing against each other makes it fun."
Rahmar Smart, an 18 year-old Jr. Firefighter, said he really got into the activities. "This was a really cool way to help us to train to be firefighters," Smart said.
Fire Prevention week is celebrated nationally and locally the second week in October. On the 40th anniversary of the 1871 Great Chicago Fire, the Fire Marshals Association of North America sponsored the first National Fire Prevention Day to stress its importance to the public; it was expanded to Fire Prevention Week in 1922.
Fire Chief Angel A. Torres Sr., an organizer of events, said they were paying tribute to all of the courageous men and women who serve our community in protecting life and property. They also pay homage to all the firefighters throughout the world who have sacrificed their lives in the line of duty.
The public got to experience the various duties and responsibilities of firefighters, and to learn how to recognize and protect themselves from fires and other hazards.
The week began Sunday with a service at Lord God of Sabaoth Lutheran Church in Christiansted. There was a softball game at D.C. Canegata Ball Park on Monday. Throughout the week there were open houses at all the stations. Thursday more than 1200 public and private school children attended an educational fire safety jamboree at Randolph "Doc" James Race Track with Smokey the Bear, Sparky the fire dog and other cartoon characters.
Inspector Gregory Williams, also an organizer, said the Junior Firefighters Corps members learn basic first aid, fire prevention, hose handling, hydrant operation, rescue and more.
Banco Popular, Diageo, and V.I. Fire Services sponsored the events.