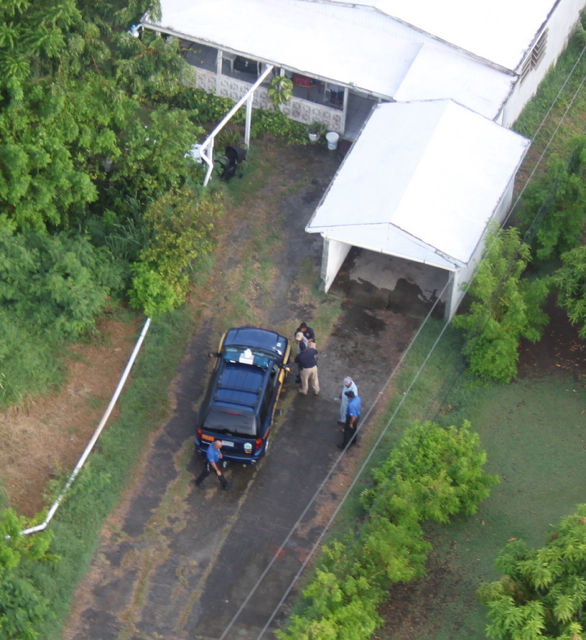 A helicopter performing police surveillance over St. Croix Tuesday through Thursday helped police chase down a suspect and retrieve a stolen vehicle, according to St. Croix Police Chief Christopher Howell.
"We had the helicopter in the air to assist the patrol division respond to felonies in progress, identify stolen vehicles, adversely affect street drug sales, and eradicate growing marijuana," Howell said. "Those goals were reached. I am going continue to encourage partnerships with those agencies providing the department with this equipment so the helicopter support can continue."
During the surveillance police received a 911 call of a domestic situation in progress involving a suspect trying to break down his former girlfriend's door with a pick axe. The suspect also attacked the victim's car with the digging implement. The suspect fled the area when he heard the helicopter approach, but the helicopter team assisted the patrol division in finding him. The suspect was located in a bushy area of Estate Rose Gate and arrested by Ancilmo Marshall Command officers.
The suspect was identified as 49-year-old Gerard Alphonso Hall. He was charged with destruction of property/domestic violence and held without bail.
Howell said the case could have turned serious if the suspect had an opportunity to attack the victim with the pickaxe.
"The helicopter was very effective in suppressing this crime, the suspect knew he was being watched from the air and there was nothing he could do to get away," Howell said.
The helicopter also fond a car that had been reported stolen the previous night from the Mutual Homes housing community. The vehicle was in a bushy area of Estate Bonne Esperance. Forensic technicians processed the vehicle and the car will be returned to the owner.
"The beauty of this is that the vehicle is still in good condition. The helicopter team located the vehicle before it could be damaged, stripped or used in the commission of a crime," Howell said.
"Although the use of the helicopter as a crime fighting tool may be a novelty and new to the people of the Virgin Islands, air surveillance is being used on a daily basis in most stateside jurisdictions. While in the air we adhere to Federal Aviation regulations and all our operations are by the book," the chief said.
Howell noted that this is the third stolen car recovered through helicopter support and reminded the community that helicopter support was used in the capture of double homicide suspect Edwin Encarnacion in September 2010 after he eluded police for several days.
"Some people like when we use the helicopter, and some do not," Howell said. "However I will continue to use any tool available inside or outside the territory to eradicate crime at every level."