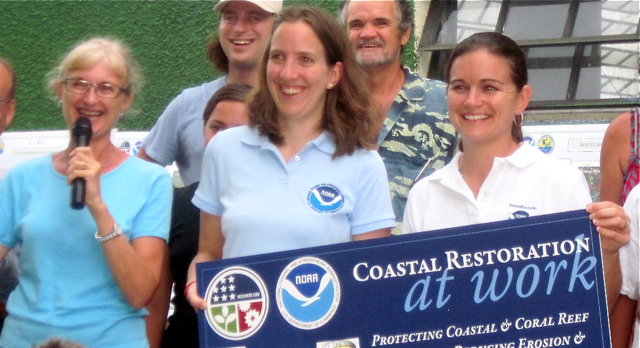 The Coral Bay Community Council and the National Oceanic and Atmospheric Administration celebrated the success of a $1.5 million program to solve the the area's sedimentation problem.
"Have we got less mud?" Community Council President Sharon Coldren asked the several dozen people who attended Thursday's event at John's Folly Learning Institute.
She got a resounding yes.
"We've made incredible progress," she said.
The Community Council attacked the sedimentation problem through 18 different projects in six sub watersheds in the Coral Bay area. The work is almost done and two NOAA officials were on St. John Thursday to tour the sites.
"I hope this project will become a template for future restoration work," said Daphne Macfarlan of the NOAA Restoration Center.
The tour of the Community Council projects happened on a rainy day, which enabled those on the tour to see first hand how the sedimentation control methods worked.
"We could see where the water is running and how it is running," Macfarlan said.
The tour group included Marcia Taylor, who as V.I. Resource Conservation and Development Council vice-president served as volunteer principal investigator on the projects. The work was financed by stimulus funds tat came through the agency.
She explained that the NOAA grant called for monitoring both the marine and terrestrial parts of the work in order to document the changes that occurred as a result of the projects.
She and Greg Miller, who served as the project manager, talked about various methods used to combat sedimentation. They included sedimentation ponds, matting, vegetation swales, concrete devices shaped like jacks placed in guts to slow down water, and paving of roads.
"A lot of money went to pave roads," Taylor said.
Miller pointed out that all disturbed earth should be covered either with paving or vegetation to prevent it from eroding.
Coldren said it took an enormous amount of coordination to make all the projects happen. Permissions from private landowners and the local and federal government were needed, homeowners associations had to step up to the plate and experts had to be hired.
The Community Council members presented Coldren with a plate to thank her for all her volunteer efforts.
"This project would not get done in Coral Bay if we didn't have Sharon Coldren," said Bonny Corbeil, the organization's vice-president.