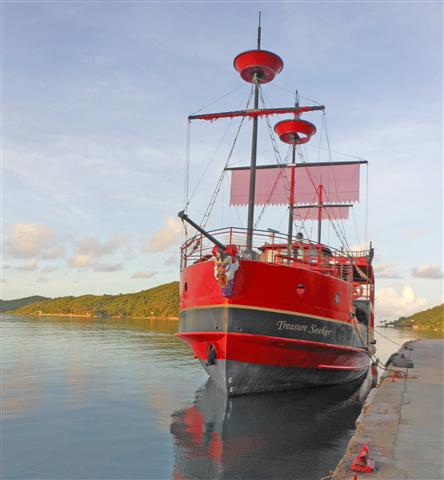 Well, shiver me timbers. St. Thomas has once again been invaded by pirates—a great big, fat red boat of them right on the waterfront.
Actually, it's only two right now, and they appear pretty tame fellows at that, but they have big plans for the Treasure Seeker, a steel hull custom-built 78-foot motor vessel, glistening with a dramatic red paint job set off by a brilliant purple, white and red figurehead.
The pirate crew's a family affair, captains all. Capt. Ray Hixon Jr., and his son, Capt. Tripp Hixon, here now, will soon be joined Capt. Betsy Hixon, wife and mother.
Ray Hixon, busily cleaning the decks early Tuesday morning, spoke of his venture with the enthusiasm, of, well, let's say a pirate with his eye on not-so-buried treasure.
That treasure, of course, is the bounty he hopes to earn taking tourists on harbor cruises with a pirate theme, lots of drink, some grub, some dancing and lots of fun.
Hixon and his son arrived Friday to tie up on the waterfront. "We're cleared with the Port Authority to tie up at this location," Hixon said.
Because it's a holiday weekend, he said they will tackle getting their business license and other government details Tuesday.
For now, the elder Hixon's busy getting the vessel ready to take tourists on pirate cruises around Hassel Island, about a two-hour trip, complete with live entertainment, pirate hats and all the accoutrements.
It's an impressive ship—three decks, fully equipped to U.S. Coast Guard specifications, including two bathrooms—and is certified for a maximum of 149 passengers and carries the latest lifesaving equipment.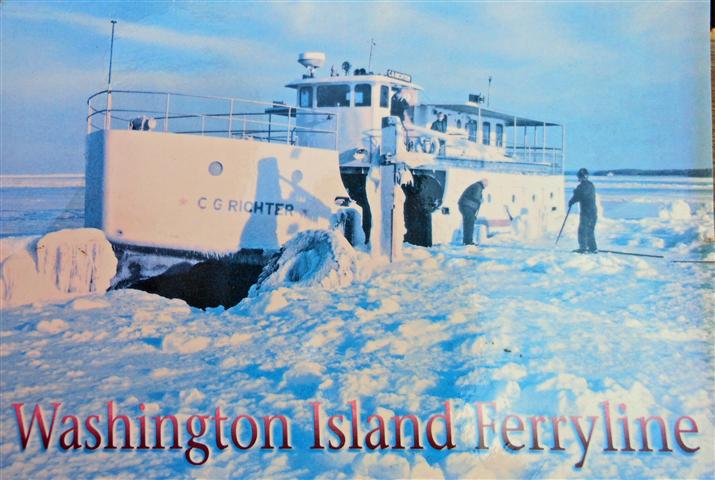 The first deck is roomy with a dance floor and bar; the second deck holds the pilot house, bar and galley; and the third open deck will have a bar and live music. The first two decks are even air-conditioned.
The Hixons are nothing if not determined. This is their second voyage to the Virgin Islands on their own pirate ship. The first, in 2008, met a sad and watery end, when their vessel sank south of the Turks and Caicos islands, in 7,000 feet of water.
Hixon said Tuesday that it might have been due to an exhaust system failure, but he clearly didn't want to dwell on the misadventure.
"That's past," he said.
Gathering together family pluck, they found the current Treasure Seeker, nee C.G. Richter, in Washington Island, Wisc. As the Washington Island ferry, for 50 years it "battled the Inland Sea in true underdog fashion. In winter the little crate of a boat had to pound its way across Death's Door by stopping, reversing, then ramming forward into ice flows containing all the cushion of concrete," according to a Wisconsin history website.
It seems only fitting that the valiant vessel gets to ply the toasty warm waters of the Caribbean in its dotage.
Hixon said he has spoken with the cruise lines before, when he was planning their first venture to the islands, and that they were "very receptive" to the concept of a pirate-themed tour boat.
Hixon said he will further those contacts in early October at the 18th annual Florida-Caribbean Cruise Association (FCCA) Conference and Trade Show in San Juan, Puerto Rico.
Meantime, the Treasure Seeker is getting boatloads of attention just tied to the waterfront. As Hixon chats early Tuesday, motorists give a honk and a thumbs-up, while early waterfront joggers can't pass by without a pause and a few questions.
"It's been wonderful," Hixon said. "Folks, grandparents with their grandchildren, everybody, stops to get a look and give us encouragement."
Little do they know that Hixon traces his history to a true pirate.
"Ellis Hixon was associated with Sir Francis Drake and the raid on Nombre de Dios," Hixon said, smiling in true pirate fashion.
With a broad wink, he said, "Well, you know, we could be related."