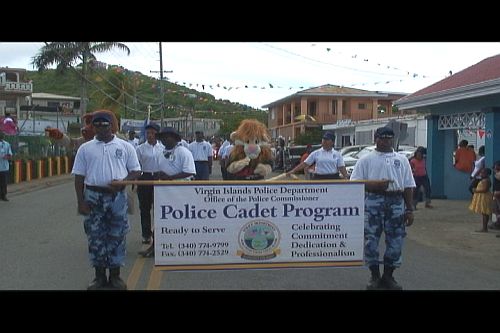 Best known for his work with local students through the popular "The Law and You" program, Officer Roy Chesterfield's newest project focuses on revitalizing his Smith Bay neighborhood and getting everyone in the community involved in the process.
Chesterfield is now the head of the Smith Bay Community Action Foundation, which held its first Labor Day extravaganza this weekend on St. Thomas. Featuring cultural events and plenty of family fun, the festivities wrapped up Monday morning with a parade that started at the bottom of Cassi Hill and made its way to the neighborhood ballpark.
"This initiative started way back last August, when Sen. Craig Barshinger came and held a town meeting in the Smith Bay area," Chesterfield said. "After that meeting, we decided that we were going to pick up where he left off and continue the initiative of making Smith Bay the place to be."
Monday's parade brought out a wide range of spectators and featured several colorful acts, including local youth groups and majorette squads, and special appearances by popular cartoon characters Dora the Explorer, Spongebob Squarepants and Mickey Mouse. Heading the parade was grand marshal Leola V. Herman, who thanked Chesterfield and his organization for holding the event.
"It's a new beginning for the group," she said. "We're thankful to the organization for doing this, and my prayers are with them that their dreams will be fulfilled as they work on getting it to what it should be."
While the kids squealed on the sidelines for their cartoon pals, the Ivanna Eudora Kean High School's marching band entertained with its dance team and drum line, and the V.I. Fire Service's Ladder I truck filled the air with sirens.
"This is the first event, but we wanted the residents and the community to know that we're going to get it to where we want it to be," Chesterfield said. "There's still a lot of work to be done but hopefully everyone is out here having fun, and that's what we really wanted this to be about."
Also coming out show his support was Gov. John deJongh Jr., who spoke about the residents' effort to revitalize their neighborhood.
"I think it's just tremendous in terms of the value of a community, and Smith Bay is an area that really has a chance to come up," deJongh said. "I think what this shows is that in order to change a community, the community members have got to come together, and this is what today is about."
DeJongh said he will be working with members of his administration, including the Public Works commissioner and the Police chief, to work with the Smith Bay residents about addressing some of the issues in their neighborhood.
"We have people in the community that are willing to work with us, and today more than anything shows that it's not about the government changing the community, it's about community members and everything that you see here," he said. "I think this is what's going to change Smith Bay and make it a much better place, and we'll find that the government's not going to lead, the government's going to follow what the members here want."