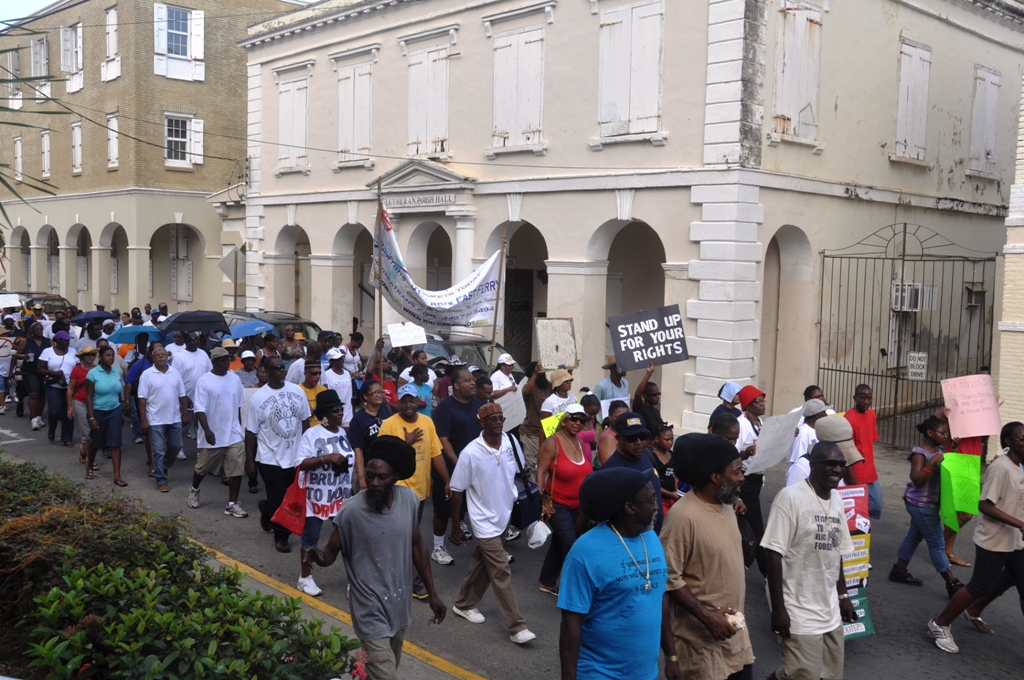 More than 200 people marched into Christiansted on Labor Day in a unified protest against the government's recent 8 percent pay cuts. Their message was loud and clear: the government should be shut down and the people should take over.
While the prospect of a government shutdown might be unlikely, the marchers, led by Eurman Fahie, seemed steadfast that, if they yell loud enough and continue to hold fierce protests, their dream of a government takeover may somehow become a reality.
"It's time for the people to take control of our own country – the people need to take over, it's that simple," said Natalie, who refused to give her last name.
From the time the group gathered at 8 a.m. in Bassin Triangle, the first signs of a frustrated crowd became apparent. People carried signs and wore shirts sporting slogans like "Stop electing fools" or "Stand up for your rights."
One woman who was waiting to join the march didn't want her name used, but said that it's important to be heard.
"I'm retired, but the handwriting is on the wall; and if anybody thinks they are exempt from this, they are not," she said.
As they marched in front of Government House on King Street, the crowd got rowdier and started chanting loudly, "I am somebody, I am somebody," until they arrived at Fort Christiansvaern. A podium with loudspeakers was set up for Fahie and others to address the group.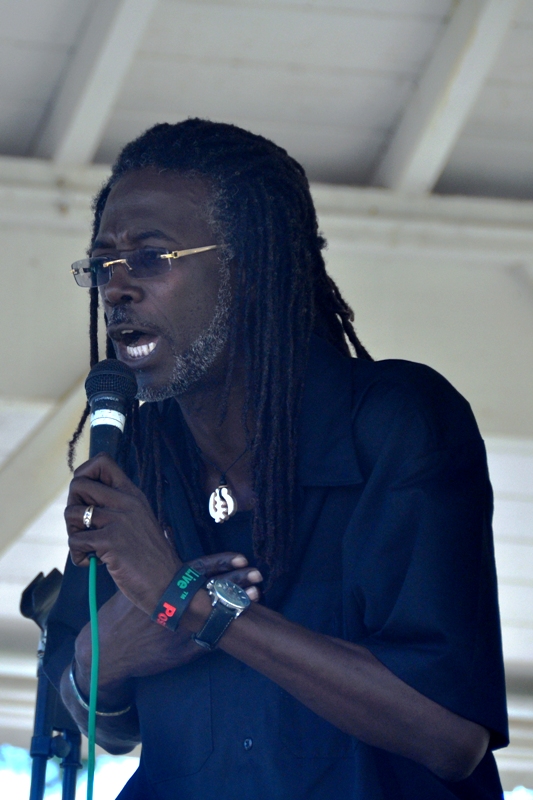 "I decided today was a very significant day – being Labor Day – to ask people who work to come out and rally. There are so many issues, with the reduction of pay, LEAC, bad roads, and issues in our schools, the list just goes on," Fahie said.
Gregory Johnson, a woodworking instructor at Woodson Junior High, took to the podium to have his voice heard.
"President Obama sent all this money – federal funds – to the Virgin Islands to fix our roads," he said. "The government pocketed it. I was gonna be quiet and not say anything until they cut my check by 8 percent! It isn't right."
After Sen. Terrence "Positive" Nelson was introduced to speak, an angry citizen jumped in front of him and said, "Senators have to wait, I am working and they are taking 8 percent of my salary. I'm tired of marching, it's time for action," he said.
Nelson didn't seem to take offense but explained that the people shouldn't be angry at him because he has been an advocate for them since 1995 and has devoted his career to helping Virgin Islanders. But then, like Natalie, he said something startling:
"Over the past 15 years, the government has been profiting. I thought when they announced the 8 percent cut, that we should've shut down the government."
The crowd hooped and hollered and nodded their heads, giving cheers of agreement.
When asked to clarify his position, Nelson said, "Yes, there should have been a job action and everyone should have stayed home and not gone to work—the people should have shut the government down."
While it's unlikely that Monday's protest will succeed in getting workers' salaries reinstated, they said they aren't done trying and asked for more rallies in the future. One citizen asked the same group to show up on Oct. 1 at Bassin Triangle for another march with the hopes that by getting more people involved, more action will be taken.
The Labor Day rally finished about 11:00 a.m.