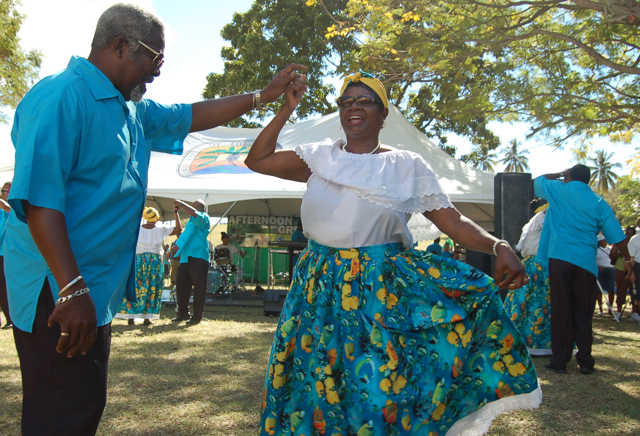 From the T-shirts worn by the volunteers to the recycling bins set up all around the grounds, green was the theme for the 22nd annual Afternoon on the Green Sunday at UVI's Herman E. Moore golf course.
In addition to the usual mix of live entertainment, kids' activities and mounds of home-cooked food, this year's festival served as the launching pad for the university's efforts to help the environment.
"This year is extra-special because of the theme," said UVI President David Hall in his welcoming remarks. "The fact that we are able to initiate this today is very exciting."
Biology professor Donna Nemeth explained how the university is trying to encourage the efficient use of resources and promote sustainability by reducing water usage, using locally-sourced materials and taking steps toward using green technologies such as solar power.
Standing in the UVI Goes Green initiative booth, which was powered by a solar array mounted on a trailer, Nemeth described the university's new partnership with Coca-Cola, whose campus vending machines dispense plastic bottles which cannot currently be recycled on St. Thomas.
"In future Coke is going to take all the empty plastic bottles to the mainland and send them to a recycling facility there," she said.
Other initiatives either currently on campus or soon to arrive include biodegradable materials in the cafeteria, timers for classroom lights, golf carts instead of cars, and the construction of energy-efficient on-campus housing.
Miguel Quinones of the Virgin Islands Energy Office said the UVI Green Institute was developing not only green initiatives, but a green workforce.
"We need people acting as energy auditors and energy managers," he said. "It is exciting that UVI has a task force looking at how to integrate ideas and bring more energy efficiency to the island."
Students are also involved in the initiative, as so-called Green Ambassadors. Cynthia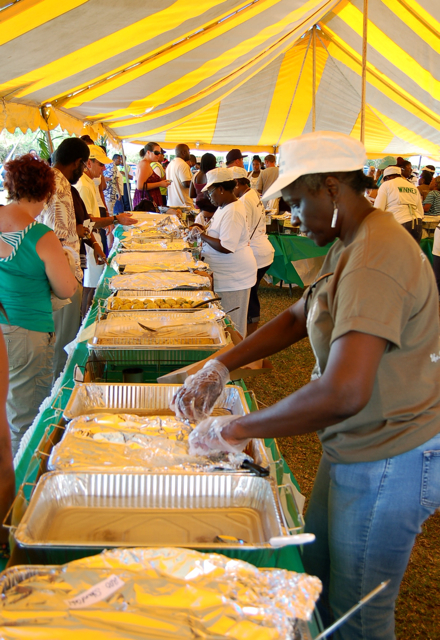 Gomez-Martin, professor of physics and astronomy, said that the ambassador program originated in her Physics 241 class, but now it has evolved into a student organization.
"Two years ago there was an obvious need for green culture," Gomez-Martin said. "So we had students choose a problem related to the environment that needed to be solved, and put together a plan for research, design, and implementation."
She cited examples such as a plan to reduce paper usage in the physics lab, and a project to clean up trash around the Nadir "bridge to nowhere."
Though recycling was on many people's minds throughout the afternoon, food was the highlight of the event, and it did not disappoint.
Over 75 volunteer servers dished up more than 130 entrees, side dishes and desserts, many of which ran out within the first two hours. As in prior years, attendees paid $3 per entree to sample the dishes, which were donated by members of the community.
Favorites such as Brigo's Firehouse Salmon competed with other colorfully-named dishes such as Prudy's Turkey Casserole Gone Postal and Dougie's Surprise (tilapia with onion, tomato and lemon wedges) and popular treats like saltfish fungi balls, stewed oxtail, salmon balls, curried chicken and chicken parmesan.
There was also a wide variety of vegetarian and heart-healthy fare available, including Boom's firehouse tofu, veggie lasagna, whole wheat spinach rolls, spinach quiche, lentil patties, pumpkin fritters, and Spanish rice with beans.
Erica Donovan, whose contributions included red peas, kallaloo, and pumpkin soup, said she participates to help future generations.
"I just do it to help kids who can't afford to go to UVI," Donovan said, referring to the two scholarships which are funded by the event. "I make my soups with a lot of love."
"I've been cooking for 20 years," she added, noting that in past years she has offered dishes such as fungi and pig's tails.
Afternoon on the Green veteran Sonia Castro echoed the sentiment when describing the 18 dishes she prepared for the event, which included rice and pigeon peas, oxtail stew and a wide variety of cakes and desserts.
"I just enjoy baking," she said. "I like the kitchen. It's my favorite spot in the house. And I like competing to help kids get scholarships."
Equally busy was the dessert tent, which featured moe than 60 items including cinnamon fingers, coconut tarts, sweet cassava pudding, vegan pastry, guavaberry cake, eggless banana bread and banana rum cake.
Lena Steele Williams, whose entry was the mouthwatering "Lena Lena Leanest Cheesecake," said that the secret to her cake was that it was smooth, but not heavy.
"I can't cook many things, but that's one thing I can make," said Williams, who has won either first, second or third place for her dessert every year for the last five years. "I used to call it 'get it before it's gone cheesecake.'"
Williams said she likes the fact that you don't have to commit to eating a whole plate of food, but instead just get to try a large scoop of each item.
"It's a great opportunity to taste foods you never tried before," she said. "It's a great event, and a lot of fun."
As the afternoon wore on, kids played on bouncy castles and participated in puppet shows as Top Notch, Bigg Thymerz and the Becca Darling Band strutted their stuff on the main stage.
In between the musical numbers, the UVI Salsa Club, violinists Alana Davis and Isis Collier, and the Mungo Niles Cultural Dancers gave memorable performances.
Attendees munched as they voted on their favorite foods and wandered past sponsor and club booths, including the Boy Scouts of America, Choice Communications, the Golden Key Society, Sea Grant Marine Outreach and the VI Small Business Development Center.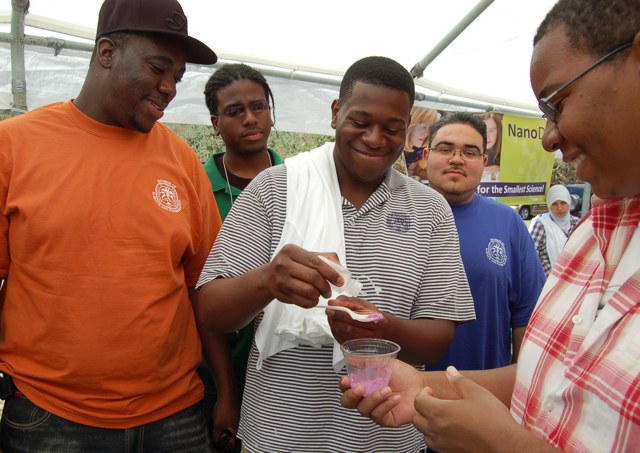 At the National Society for Black Engineers tent, Odari Thomas demonstrated nano-technology for passers-by. He poured oil and water onto a specially-engineered nano-sand — which absorbed only the oil — as he described how this technology can be used for oil-spill clean-ups at sea.
As the event wound down, dozens of senior citizens and familes took shelter from the hot sun under the trees and tents spread around the grounds. Afternoon on the Green committee chair Jacqueline Sprauve, looking tired but happy, was among them.
She gave thanks to the dozens of volunteers like herself who gave their time once again to make the event, which has been in the works since October, come to fruition.
"We couldn't have done this without volunteers," she said. "It wouldn't be possible without them."
Competition winners will be announced later.