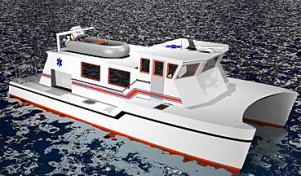 A new ambulance boat is on its way for St. Thomas-St. John, and Health Department officials are calling on the public to help name it.
The state-of-the art vessel is meant to improve maritime and emergency medical transport from St. John to St. Thomas and is part of the government's continuing efforts to beef up healthcare services on St. John, according to a recent news release.
Gov. John deJongh Jr. announced last year that St. Croix-based Gold Coast Yachts has been contracted to build the boat, which is almost 50 feet long but has a draft of only 3 feet, 5 inches so it can go into bays and pick up patients off the beach.
The ambulance vessel is a twin-hull design of composite materials, capable of 25-30 knots in a broader range of sea conditions than most comparable boats. It features a 300-square-foot climate-controlled patient compartment, with room for four or more paramedics/EMTs, plus captain and one crew member.
The new boat, which is expected to be delivered by the end of the month, is expected to hold four-to-six stretchers.
A committee made up of St. John Administrator Leona Smith, St. John resident Robert O'Connor Jr. and Emergency Medical Services representative Avon Chesterfield will consider all suggestions for names submitted by the public before making a final decision.
Noting that March is V.I. History Month, Health Department spokeswoman Eunice Bedminster said a "multitude" of St. Johnians have served and and continue to serve within the local health care community and that it is only fitting the public be given the opportunity to honor them by offering up their name for the boat.
Bedminster added, however, that suggestions are not limited to names of people, but rather "all thoughts of what the vessel should be called are welcome."
Residents can pick-up and drop-off the "Name the Ambulance Boat Suggestion Form" from Tuesday through Thursday at these following locations:
• Coral Bay Fire Station – 8 a.m. – 4 p.m.
• The Battery – 8 a.m. – 4 p.m.
• Morris DeCastro Clinic (EMS Section) 4 p.m. – 8 p.m.
Suggestion forms will also be distributed to students at Gifft Hill School and Julius E. Sprauve School and will be made available to senior citizens at the Human Services centers, George Simmonds Terrace and St. Ursula's, the release said.
Residents can also download a form from the Health's website at: www.helathvi.org or e-mail suggestions to nametheambulanceboat@usvi-doh.org.
The deadline to submit suggestions is 8 p.m. Thursday. The winner will be announced shortly after, according to the release.