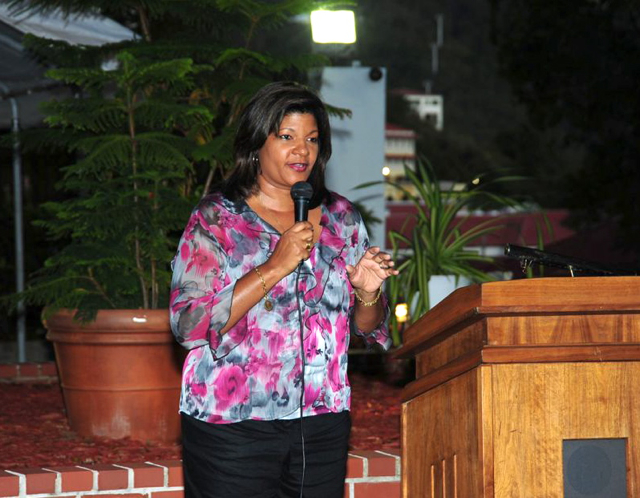 If it's almost summer, it's almost time for Camp Shriver, a summer program launched locally by first lady Cecile deJongh in 2007 for children eight to 15 with intellectual and physical disabilities.
Beginning its fifth season with a bang, Camp Shriver was the focus of an elegant fundraiser Friday hosted by deJongh in the First Lady's Garden on Government Hill.
The event was organized for members of Dinner and a Cause, a group of St. Thomas women who get together to network, socialize, and, while they're about it, raise money. That they did, collecting almost $7,000 from the 80 or so women, for the two summer camps, one on St. Thomas and the other on St. Croix.
The group formed in 2006 to raise money and awareness for charitable organizations in the territory. The evening marked their 24th event. Through its fund raising efforts, the group has raised more than $120,000 in support of various non-profit entities, including Bethlehem House, the Family Resource Center, My Brother's Workshop, the Salvation Army and Clear Blue Sky.
DeJongh was generous in her praise.
"This group represents the vision of an incredible group of women with a passion for positively impacting the Virgin Islands community she said. "I am delighted at the generosity of spirit expressed through their fund raising and public awareness efforts and look forward to our continued work together."
The first lady singled out for special praise the efforts of Dinner and a Cause founders Eula Castleberry-Hymes, Terry Halpern, Suzanne Mabe, and Pam Larsen.
In 2007, Gov. John deJongh Jr. and the first lady met with National Camp Shriver creator and founder of the Special Olympics, the late Eunice Kennedy Shriver, to initiate bringing the camp to the Virgin Islands. They met at her home in Massachusetts, along with Catholic Charities Executive Director Michael Aiken and V.I. Special Olympics National Director Janice Lee. Now in its fifth consecutive year in the territory, the sports camp continues to provide recreational opportunities for children with disabilities.
Addelita Cancryn Junior High School is the site for this year's free three-week camp, which runs Monday through Friday, July 5 through July 25.
Program director Jackie Nelthropp was eager to talk about the program. She has more energy and enthusiasm than possibly the entire troop of volunteers, chomping at the bit for the camp to begin. Nelthropp has a run for her money in that department, however, from Cancryn veterans sports coordinator Therese Hodge, 30-year physical education icon, and Rochelle Todman, sports coach.
Nelthropp combines the Shriver Camp with one she runs on her own, called Total Camp Experience.
"It's in the same location with regular kids," Nelthropp said. "Part of the Shriver philosophy is to have a regular child working together with a disabled child, like a buddy system. The one youngster will help the Shriver camper working closely, for instance in basketball, 'pass the ball, shoot the ball, dribble,' so they have the special attention. And it works."
She said they get a lot of walk-ins each year, as well.
"The camp is free, and we never turn anyone away."
Remarkably, Nelthropp said, "We have no discipline problems."
"Seeing the excitement on the kids' faces, is our reward," she continued. "When we do awards ceremonies – the most friendly, the most popular – and we give them ribbons they bring home, you should see their faces! And we celebrate Christmas in July, with Santa hats and gifts, and we bake cookies."
Nelthropp said, "I would love to have enough in the budget to give them all back-to-school kits."
There is no cost to families. The camp is fully funded courtesy of Catholic Charities of the Virgin Islands and the Community Foundation of the Virgin Islands.
Janice Lee, Virgin Islands director for the Special Olympics, and the St. Croix Camp Shriver program director, said Camp Shriver will be held at Claude O. Markoe Elementary School this year for two weeks from July 11 through July 22.
"We can be part of the lunch program at Markoe," Lee said. "Our program is strictly sports, including swimming."
Lee has her hands full with Special Olympics activities. After the annual Saturday meet on St. Croix, she is busy gearing up for the March 26 meet on St. Thomas at the Charlotte Amalie High School track. Lee can be reached at 772-2277. For St. Thomas information, call Nelthropp at 514-1630.