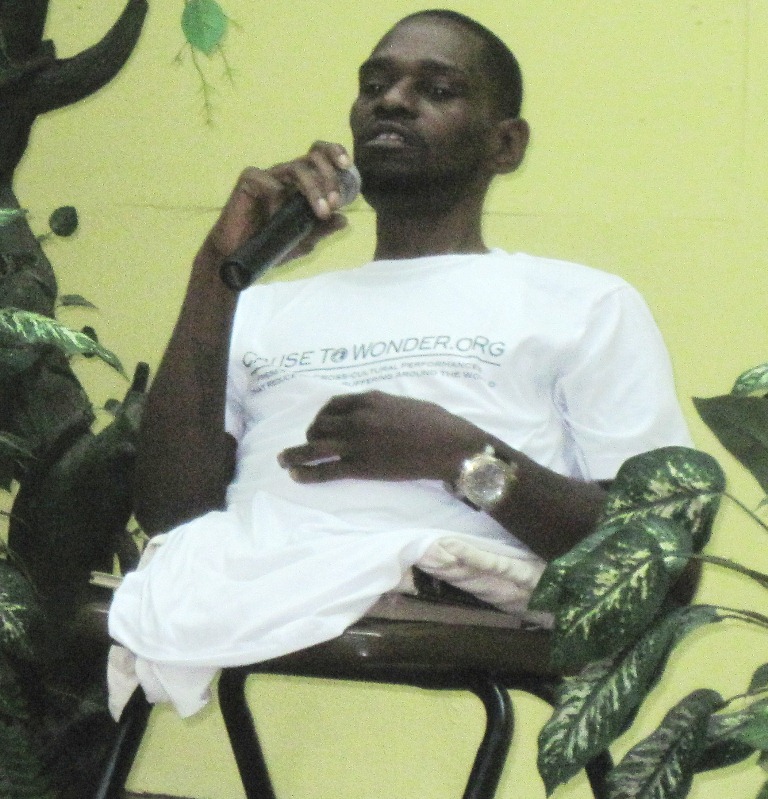 In one quick move, the table in front of Eddie Hawkins was whisked away to reveal that the former gang member was missing most of the lower half of his body. This got the attention of the hundred-plus students at Julius E. Sprauve School on St. John, who were on hand for a presentation this week sponsored by the nonprofit organization Cause to Wonder.
Hawkins, 44, didn't mince words when he told the students how he came to this point in his life.
"I got shot 13 times," he said.
He later added that he was shot by a boy he thought was his friend and two of the boy's friends.
Hawkins also did his share of the shooting as a member of the Bloods gang. He said he killed four people – the first when he was 13.
"I blew someone's head off," he said.
His second murder happened when he was 17, the third when he was 20, and the fourth a year later, he said.
Hawkins, who spent his violent years in Camden, N.J., said two women were shot to death while in his car because someone erroneously thought he was there, too.
"If they can't get you, they'll get the closest thing to you," he said.
And he said that his mother died at age 49 thanks to his behavior. He said she was a diabetic who spent her life savings getting him out of jail.
He also said that he has a son, now 27, who's been in Trenton, N.J. State Prison since he was 17 because he's serving an 18-year sentence for murder.
Hawkins told the students that for all the time they'll put in selling drugs, they'll make less than minimum wage.
According to Hawkins, he got involved in gangs because he looked up to a man who was involved with his "auntie." He had lots of money and women.
"I wanted to be like him," he said.
The students were curious about how Hawkins got around and also wanted to know how he went to the bathroom. He said he uses a bag for elimination. They also wanted to know his height. He didn't answer, but said he used to be six foot one.
He said he spent over 17 years in jail on murder convictions. After spending more than two years in the hospital recuperating from the surgery that followed the shooting, he was at home for 31 days before he was sent back to prison. He said he's been out for eight years and is speaking out to students about the perils of violence and crime.
"For all the bad I had done, I wanted to do something good," he said.
The kids appeared to get his message. As they left the Sprauve School cafeteria, several of the sixth- through ninth-graders said that they learned not to join gangs.
"Because you can get killed," Jovanie Stephenson, 13, said.
Picking up on Hawkins' message, Kaheem Walters, 10, said that he'll try to talk friends out of joining gangs if they seemed interested.
Sprauve Principal Mario Francis said after the presentation that while St. John doesn't currently have a big gang problem, it was inevitable that it would come to St. John.
"I hope what they heard is that crime doesn't pay," Francis said.