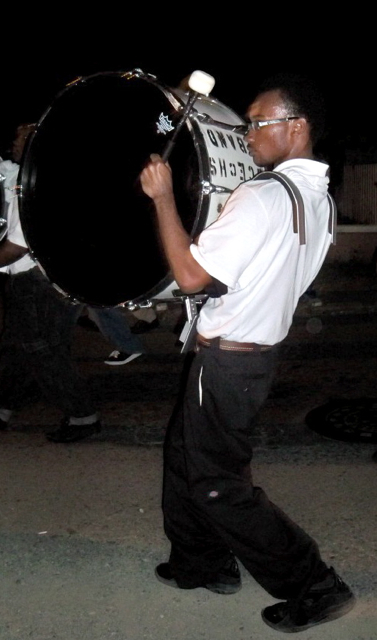 The fresh and cool night air was perfect, as spectator gathered in Christiansted to watch under street lights as the Old Time Traditional Parade wound through the streets, part of the annual Crucian Christmas Festival.
Though the parade was smaller than in recent years, the crowd was larger. More than 1,000 people filled the sidewalks all along King Street. The parade started at Sunday Market Square, went down King Street and back up Company Street, ending at the Christian "Shan" Hendricks Vegetable Market where the Festival Mini-Village was in full swing.
Royalty was at the head of the parade that got a later start than scheduled. While they waited for the parade, the folks at the beginning of the route were entertainedbytheSt. Croix Educational Complex Barracudas MarchingBand. And around 15 young ladies put on a nice display of flag twirling, stomping and chanting while the crowd cheered them on.
Complex Steel Ensemble played Christmas steel pan music getting people into the holiday spirit.
"I got very emotional when I heard the steel pan band," Eva Soto said. "This is the first time I have been to a parade at night. It is so fresh and beautiful."
All dressed in holiday style in red T-shirts and white shorts were all sizes of St. Croix Majorettes twirling and strutting their stuff.
And Evalusen Band brought up the rear with gigantic black speakers on the back of a huge semi truck blasting out tunes pumping up people for more partying.
A large number of people went on to the mini-village at the market to herald in the holiday and the festival season.