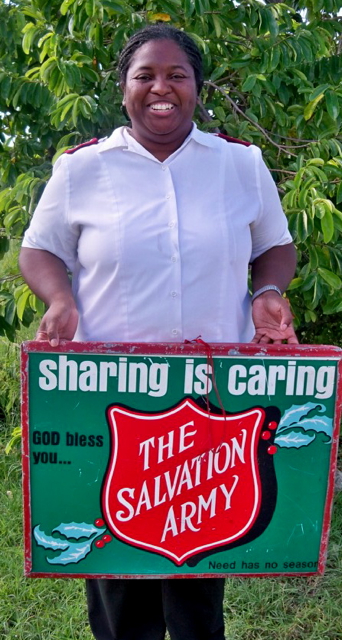 In 1865 William Booth, founder of the Salvation Army penned these words:
"While women weep as they do now, I'll fight; While little children go hungry as they do now, I'll fight; While men go to prison, in and out, as they do now, I'll fight; While there is a drunkard left, While there is a poor girl lost upon the streets, While there remains one dark soul without the light of God, I'll fight-I'll fight to the very end!"

The sentiments still ring true today for Salvation Army volunteer bell ringers and Major Ana Frazer, commanding officer on St. Croix.
The St. Croix volunteers are presently ringing the bell in the familiar Christmas Red Kettle Campaign to raise funds that are used locally to fulfill the Salvation Army mission throughout the year.
Booth started out with an army of volunteers that later became a "Salvation Army." He modeled it after the military, but focused on salvation.
St. Croix Salvation Army members perform evangelical, social and charitable work. They bring the Christian message to the poor, destitute and hungry by meeting spiritual needs.
They offer youth development programs, women's support groups, pastoral counseling and community care visits and outreaches at senior citizen homes and the hospital. They work with local government agencies that refer people to them who are in need of assistance in an emergency situation to pay utility bills, buy gas or groceries.
"When we see a transformation in spiritual needs in people's lives the other things fall into place," Frazer says. "It's all about being good to our neighbors."
Frazer, a city girl who came to St. Croix from Philadelphia in July, said she was asked by the territorial head of personnel in Nyak, N.Y., to try out the position for a couple of years. She is on a mission to increase church membership, add volunteers and increase donations. Frazer was ordained as a minister in the accredited seminary in the Salvation Army School Officer Training.
Frazer says it has been a struggle to get active volunteers over the years.
"The volunteers committed to the mission we have are real diamonds. The reason for our motivation to serve is on a spiritual foundation," she says.
There are six active volunteers on St. Croix. Frazer prays she will get some help in the thrift shop on the grounds in Estate Whim and in Frederiksted. She would like to have more volunteers to go out and just give out sandwiches to less fortunate.
Frazer was not very familiar with the history of the organization on St. Croix but she said around 30 years ago Mary Hodge came to St. Croix and revived the Salvation Army.
As with all charities, there has been a marked decline in donations here the past few years, Frazer said. The local branch is funded by the New York division, which provides a salary for her and money for utilities. They have asked her to raise $20,000. She is in the process of sending out letters to businesses and corporations on St. Croix seeking donations. She is hoping to bring in at least $5,000 in the Red Kettle Campaign.
The non denominational church includes 32 members. Service is at 11 a.m. Sundays at 82 Estate Whim off Queen Mary Highway and right next to Villa Morales
Frazer hopes as the volunteers ring the familiar bells this holiday season people will reach into their pockets and help the local branch meet its fundraising goals to continue the mission to which they are called. The kettles are at both Plaza Extra stores, Cost U Less, both Kmarts and Gallows Bay Hardware.
Further information on the Salvation Army is available by calling 773-6162.