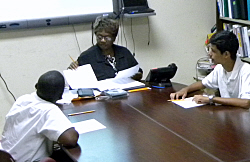 Five V.I. students calmly sat the qualifying examination Friday to determine who will get to participate in the National Geographic Geography Bee.
The five V.I. students are vying with five Puerto Rican students to win one all-expense paid trip to compete in the national bee in Washington, D.C.
With a $25,000 scholarship and an all-expense paid trip to the Galapagos Islands at stake for first place in the National Geography Bee, and $15,000 and $10,000 college scholarships for second and third place, the V.I. students looking to qualify had plenty to be nervous about, but the jitters weren't obvious amongst the four boys taking the exam on St. Thomas
"The Virgin Islands is now combined with Puerto Rico and the top 10 students (based on qualifying tests from those territories) are taking written test today to determine the Atlantic Territories representative to the national finals," according to an email from National Geographic spokesperson Stephanie Montgomery. "There are not many schools from Virgin Islands and Puerto Rico so we combined them just like we combined Guam, Mariana Islands, and American Samoa years ago — and they have a representative for Pacific Territories."
Four V.I. students answered the questions on St. Thomas at the Education Department's Curriculum Center in Estate Tutu, and one student, connected to the group via teleconference, answered the questions from his school on St. Croix.
Four of the territory's examinees are from St. Croix and one is from St. Thomas. All participated in bee-like competitions at their schools and then took a preliminary written examination on January 14.
This was the first time that Crucian Michael Doliotis, a fifth grader at Church of God Holiness School on St. Croix, took the qualifying exam, which he had to take at his own school when he was unable to travel to St. Thomas.
Doliotis attributes his geographical knowledge to reading about animals, watching the Discovery Channel and studying the globe.
Not ready to give away his study secrets, Country Day seventh-grader Jamon Fisk reads atlases the way other people read books, according to his parents.
Since fourth grade, Fisk has finished in the top three competitors from his school, but this was the first time that he has made it to the qualifying exam, said his mother, Stefanie Crosier.
"Geography is just basically his thing," Crosier said. "I don't think the test is a big deal, it's trying to accomplish the goal of getting to go to the bee."
Less elusive about his strategy, J'von Carty, an eighth-grader from Bertha C. Boschulte Middle School, said that he studies maps and does geography quizzes on the Internet.
After the exam, Carty said that he thought the test was "hard" but he answered all of the questions.
Following the exam, Antilles School seventh grader Chirag Sharma said that one of the hardest questions that he remembered involved three islands that made up a country in the Atlantic Ocean. He said he answered the Bahamas.
Not all the examinees said they found the test difficult.
"It was good and interesting," De-Vaughn Taylor, a John H. Woodson Jr High seventh-grader said. "But it wasn't hard."
District Social Studies Coordinator Annie Smith, who administered the exam, said the students who made it to the qualifying exam say that they read a lot, and are very aware of current events.
"I can't emphasize travel enough," Smith said. "They can see the world as it really is."
The exam answer sheets have been faxed to the National Geographic Society for scoring.
Smith said that exam results would be available in approximately 24 hours.