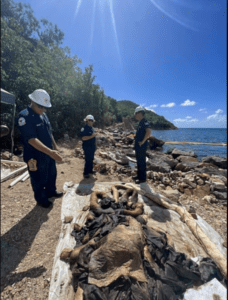 U.S. Coast Guard personnel overseeing the cleanup of a diesel discharge from a holding tank at the Randolph Harley Power Plant on St. Thomas have formally extended their efforts to include the waterside oil spill on the eastern shore of Lindbergh Bay, the agency announced Friday.
USCG analysis has linked the product found in Lindbergh Bay on Nov. 3 to the No. 11 tank diesel discharge that occurred at the V.I. Water and Power Authority facility on Oct. 25, according to the press release.
"Unity of effort is key to achieving a successful outcome for this response," said Capt. José E. Díaz, Coast Guard captain of the port and federal on-scene coordinator for the response.
"Our local and Coast Guard Atlantic Strike Team personnel are actively working with WAPA oil spill recovery crews who have been compliant with all directed response actions for the land and waterside spill areas. We collectively seek to ensure the oil is cleaned up and that any threat to public health or the environment be properly mitigated in a timely manner," he said.
The USCG is directing WAPA to present a formal plan for oil removal and any long-term monitoring required to protect the navigable waterway and provide the documentation related to the facilities' transfer, incident investigation, and tank 11 inspection, the press release stated.
WAPA representatives said preliminary steps have been taken towards meeting the USCG's request, the release stated.
"Once WAPA completes and submits their plan to the Coast Guard, we will hold a Caribbean Regional Response Team (CRRT) meeting with key stakeholders to discuss the plan's approval and address any concerns that may arise," said Petty Officer 1st Class Paul Sanders, federal on-scene coordinator representative for the response.
WAPA oil spill recovery crews for the number 11 tank discharge collected approximately 18,000 gallons of oily water mixture from the discharge tank's secondary containment and an additional 8,000 gallons of oily water mixture from the affected land. Oil recovery amounts for the land and waterside response areas will be updated when available, according to the release.
The CRRT is co-chaired by the EPA and the USCG and includes participation from approximately 20 federal, commonwealth and territorial government agencies, which serve as the regional body for planning and preparedness activities before a response to a major or other significant oil or hazardous substance incident, and for the coordination and advice during such response actions, it said.