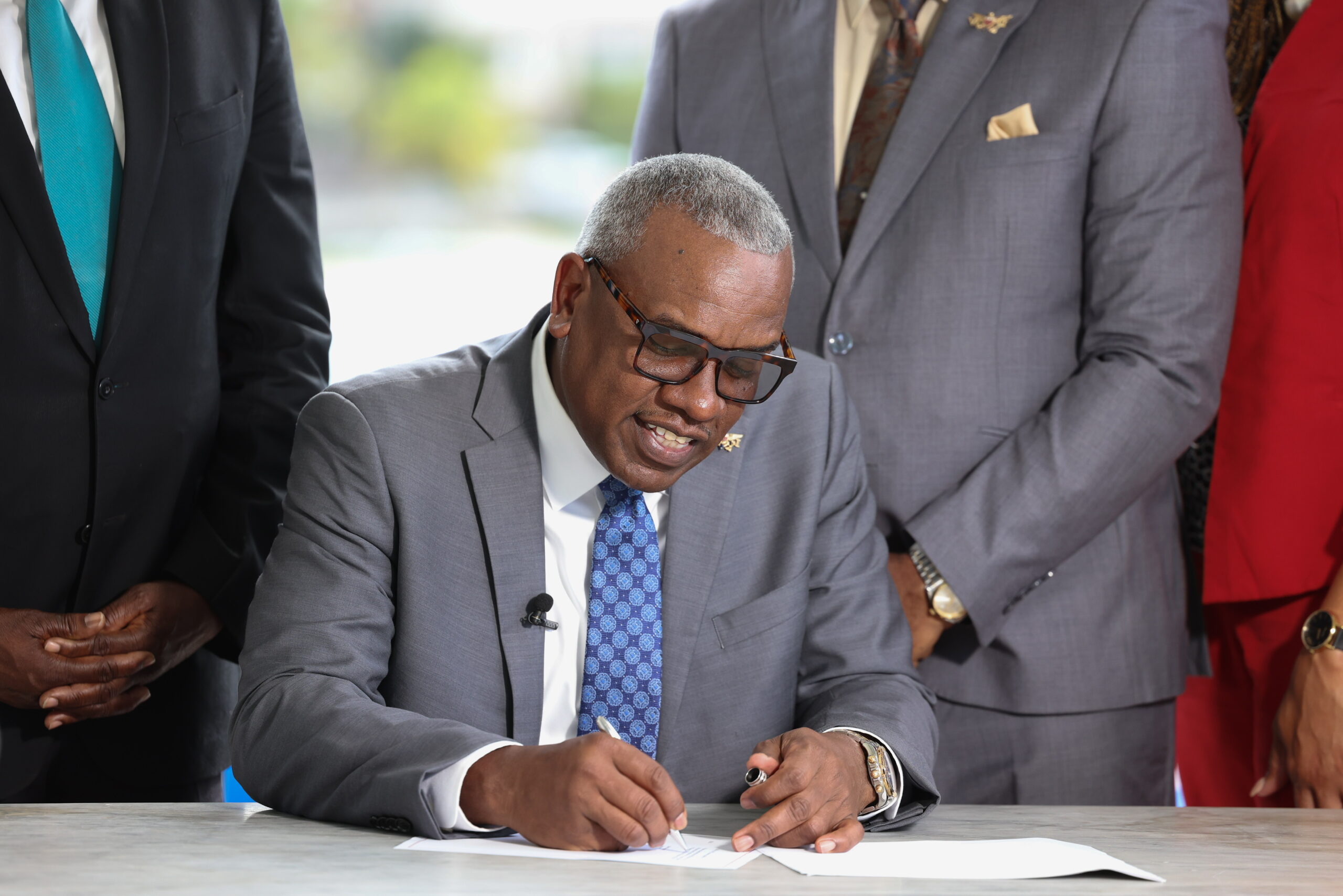 Gov. Albert Bryan Jr. on Friday signed a bill into law that officials hope will start momentum towards creation of a new public school for the island of St. John. Bryan predicted that the government will choose a contractor to begin work on the proposed K through 12 school by April 2024.
Senate President Novelle E. Francis Jr. and Senator-At-Large Angel Bolques Jr. were among the officials gathered to witness the signing of Bill No. 35-0112. They were joined by Lt. Gov. Tregenza Roach, Education Commissioner Dionne Wells-Hedrington, and Government House Legal Counsel Richard Evangelista.
The bill calls for the exchange of land parcels between the Government of the Virgin Islands and the U.S. Department of the Interior through the Virgin Islands National Park. Now that the measure is signed, the parcel identified as part of Tract No. 02-101 Whistling Cay, Cruz Bay Quarter, will be traded for a portion of Estate Catherineberg near a mid-island border of the park.
Proceeds from the exchange — a $211,000 payment by the Park Service for the difference in value between the two parcels — are being directed into the St. John Capital Improvement Fund.
Francis, the sponsor of the bill, reflected on the historical significance of the Catherineberg site. "I think it's extremely meaningful. Being able to get that back from the park service is certainly momentous and a big deal for me," he said.
The senate president said the next step involves the transfer of parcels. "This clears the way for the agreement to be fully executed. We'll receive the funding from (the) Department of the Interior. … Now, we're able to execute the transfer of the property on Whistling Cay and Catherineberg," Francis said.
Bryan described some initial steps now in the works, leading to creating the new school campus. That work is expected to create a tangible model of what the school will look like.
"I think we've already started the design scope for the St. John school. What we hope to see next is to have a design-build so that we can fully start the process and get that going," the governor said.
He optimistically predicted that by the second fiscal quarter of 2024, "we should have a contract awarded for this."