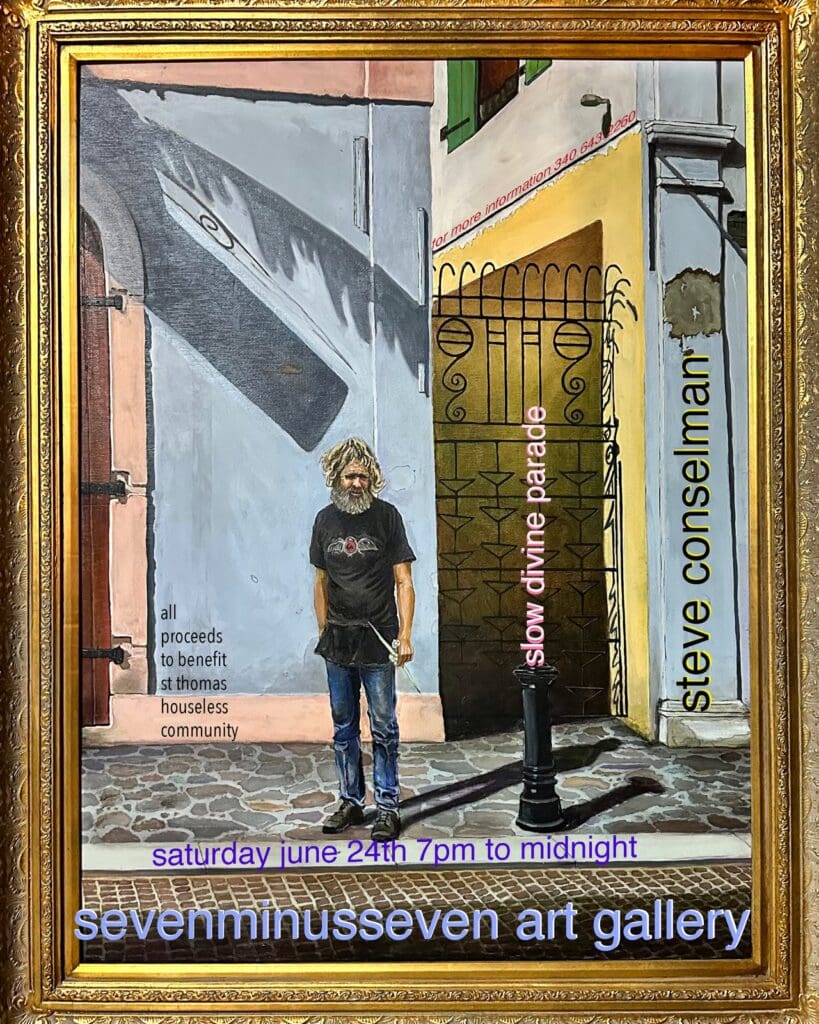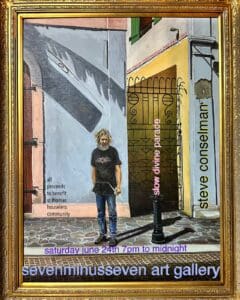 On Satuday, Seven Minus Seven gallery will host an exhibition of paintings by St. Thomas artist Steve Counselman. The show is called Slow Divine Parade, and is a series of oil-on-wood paintings. Counselman is no stranger to the St. Thomas art scene; and while his work has been displayed in numerous venues before, it is the subject of these paintings that makes Slow Divine Parade unique. The series commemorates the houseless population of St. Thomas. Each of the 13 pieces depicts a different indigent person from the streets of Charlotte Amalie.  
When asked why he chose this particular subject, Counselman said that "these are people (that deserve portraits) too. I paint them to dignify them." Speaking on the birth of the project, which took two years to paint, "I had been on island for 20 years, but never spent much time in town. When I moved to the Santa Ana house, many of these houseless people were my neighbors. I began to get to know them, and formed some friendships.  One day I asked a man if I could take his photograph, to then paint a painting from. He agreed, I paid him a modeling fee and presented him the painting when I was done. He was so happy with the result," he said.  
"You know in a lot of ways I see them as the ambassadors of Charlotte Amalie. They are always out on the street, and for an average visitor they might be one of the first locals they meet. But for the people of town, they are almost invisible. I wanted to give them a chance to be seen," said Counselman.
The portraits themselves are simple with unassuming backgrounds; a lifelike moment captured in the subject's regular haunts. They are rather large, ranging from 2 by 3 to 4 by 5 feet, and wrapped in ornate gilded frames; a deliberate touch that Counselman added to "give them the dignity and status they deserve." 
Clay Jones, founder of the Seven Minus Seven gallery and art alliance, is excited to show Counselman's series. "It's a wonderful series and I believe strongly in its message. I hope a lot of people come to see the portraits. I hope a lot of people come to BUY them," he laughed. The reason for Jones's added enthusiasm is that Slow Divine Parade, in addition to being a showcase of local talent, is also a fundraiser to support the vulnerable population.  "All the money from the sales of the portraits will go into my project Clean and Clear, which is aimed at helping the houseless people of St. Thomas," said Jones. 
Clean and Clear, will operate as a sort of "day shelter" offering services to residents of Charlotte Amalie living on the streets. "They can come in, take a shower, receive clothes as well as wash the ones they have, get water bottles and clean water … just give them the chance to feel clean and off the streets for a bit," said Jones.  
When asked why this project spoke to him so strongly, Jones recounts becoming friends with someone he met that was living on the street. "We became really close. Over time I watched him get a place to live with the help of the Department of Housing, and saw what a huge impact it made on this man's whole life. So I've been asking myself, what's the biggest difference I could make in someone's life?" 
The opening night of Slow Divine Parade, a show about the houseless, and for the houseless, starts at 7 p.m. Saturday with an open bar. Counselman's portraits will be on display through July. For more information on the project Clean and Clear contact Clay Jones at 340-643-2260.
To reach the gallery from downtown Charlotte Amalie, head towards the airport and the University of the Virgin Islands. Stay straight and after passing the turnoff for the airport you will pass Community Motors on the right, make a right turn at the signs for Caribbean Battery and Broadband VI. Make another right turn after Boyne's Gas into a warehouse complex. Make an immediate left turn after Cyclone Fencing and Le Bleu. The gallery is in the last warehouse bay.