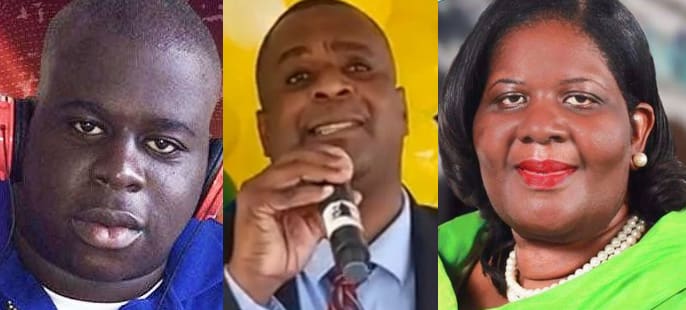 Former BVI premier Andrew Fahie and his co-defendant in a drug smuggling and money laundering case are facing new charges — and the possibility of life in prison and $10 million in fines if convicted — according to a superseding indictment filed in U.S. District Court in Miami.
The indictment, filed Tuesday, charges Fahie, former BVI ports managing director Oleanvine Pickering Maynard, and her son Kadeem Maynard with conspiracy to import a controlled substance (cocaine), conspiracy to engage in money laundering, and attempted money laundering. It alleges the illegal activity took place starting about Oct. 16, 2021, until their arrests in April.
Fahie, 51, and Pickering Maynard, 60, now also face one count each of interstate and foreign travel in aid of racketeering.
Fahie and Maynard, 31, are scheduled to be arraigned on Wednesday in U.S. District Court in Miami. The court docket did not list a date for Pickering Maynard's arraignment.
The trio was arrested April 28 following a months-long sting operation by the Drug Enforcement Administration, which alleged in a criminal complaint that they agreed to arrange safe passage of cocaine through the British Virgin Islands in return for payments of millions of dollars in cash.
Fahie and Pickering Maynard were arrested at the Miami-Opa Locka Executive Airport where, according to court filings, they thought they were meeting members of the Mexican Sinaloa drug cartel to get $700,000 in cash. Maynard was arrested the same day on St. Thomas on a trip to arrange his first shipment of cocaine, as well as pick up a satellite phone and $30,000 in bribe money, prosecutors have alleged.
Pickering-Maynard and her son remain in federal detention in Miami, while Fahie is free on $100 million bail, confined to his daughters' Florida apartment and under 24/7 GPS monitoring.
Recently, federal prosecutors shared more than 8,000 minutes of audio tape evidence with Fahie's lawyers, according to court filings. Along with the audio recordings, prosecutors handed defense attorneys phone records, WhatsApp data, law enforcement reports from Puerto Rico, and bank records. They also extracted "voluminous" video and other data from the defendants' phones, according to the court documents.
According to the superseding indictment, Fahie, Maynard and Pickering Maynard face 10 years to life in prison on the drug charges, and 20 years on the money laundering charges if convicted. The racketeering charge carries a maximum penalty of five years.
They could also face fines of up to $500,000 on the money laundering charges, $250,000 up to $10 million on the drug charges, as well as forfeiting any property that was derived from illegal dealings, according to the superseding indictment. The racketeering charge carries a maximum fine of $250,000, it said.
Prosecutors said in their filing that they expect it will take 12 days to try the case.