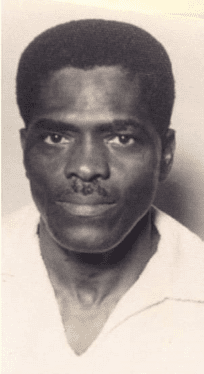 Max Frederick Sr. died on Oct. 4.
He is survived by his wife: Adeline "Irma" Prince Frederick; children: Maxime Frederick, Sharon C. Frederick (UK), Sharon G. Frederick(ANU), Eartha Gray SSG, Max Frederick Jr., Kenroy Frederick and Carl "Sparrow" Frederick; step-children: Raphael Prince Jr., Dora Burroughs, Donald Burroughs, Delita Burroughs and Deleno Burroughs Sr.; grandchildren: Myley Frederick, Makeo Frederick, Manaijah Frederick, Masai Miller, Leah Frederick, Kyah Frederick, Kenroy Jackson, Kevin Bradshaw,  Fitzgerald Frederick, Kerri-Ann Frederick, Kea Frederick, Kenique Frederick, Kobe Frederick, Assyria Frederick, Accola Samuel, Akesha Samuel, Omari Samuel, Crystal Refeer and Jahlani Reefer; and step-grandchildren: Raphael Prince III, Rashaad Clarke-Prince, D'Myah Philbert, Deleno Burroughs Jr. and D'mani Burroughs.
He is also survived by great-grandchildren: Imaan Frederick-Charles, Angálina Carbon, Persia Bruno, Kean-Claude Weaver, Keithriana Cocly, Kerez Jackson, Ke'sonya Jackson, Kyen Jackson, Khalen Jackson, Keyron Jackson, Kyra Jackson, Jerome Samuel, Orie Samuel,  Malyki Lockart, Akeem Reefer, Jahmiya Reefer, Alshaday Reefer and Zuri Reefer; great-great-grandchildren: Kehmarie Francis and Melody Reefer; sister, Leah "Vanessa" Z. Frederick (Antigua); brother, Eleazah "Leroy" Frederick (Florida); and nieces: Amabelle Williams, Rosabelle Burleigh, Lolita Lyne, Arline Frederick, Carmen Frederick, Althea Frederick-Tutein, Cordelia Frederick-Prince, Delphine Frederick-Brady, Elora Frederick, Jacqueline Frederick, Gweneth Francis, Belinda Joseph, Cheryl Joseph, Alberta Joseph, Janice Frederick-Mascall, Cutie Frederick-Hampson, Janet Frederick-Bailey, Claire Frederick-Chastanet and Beverly Frederick.
Other survivors include nephews: Paget King, Calwyn King, Allen Frederick Sr., Henley Frederick, Angus Frederick, Dion Frederick, Beresford Frederick, Denley Frederick, Kenroy Frederick, Denfield Francis, Elwin Francis, Lestroy Skepple, Everette Joseph, Denzil Joseph, Adolphus Joseph, Fitzroy Joseph, Vernon Frederick, Lyndon Frederick, Stedroy Frederick, Keith Frederick and Calvin Frederick; brother-in-law, Bernard George (St. Kitts); sisters-in-law: Gweneth George, Marilyn Maynard, Rosetta James and Ersalyn Duggins (all of St. Kitts); goddaughter, Fay Barns; friends: Hard Man, Dousha, Sylvestor "Laffy" Brown, Worm, Evet Joseph, Carol Melius, Elvis Pinney, Rafael and Velsina Berrios, Lorraine Cadet, Trevor and Angela Kelley, Anthony and Althea Mark, Lystra and Sinclair Fleming, Berecia Christopher, Patrick Byrd, Brantley Young, Verna Blackman, Valarie Guillard and family, Stanley and Pearline Walters and family, and David King and family from St. Thomas; special cousins: Hubert Frederick, Fabia Laudat-Dover, Eugenie Hampson, Marjorie Hampson, Otis, Andy and Alex Williams; as well as other relatives and friends too numerous to mention.
A viewing will be held at 9 a.m. followed by a funeral service at 10 a.m., Saturday, Oct. 29, at Faith Moravian Church. Interment will immediately follow the service at Kingshill Cemetery.
Professional funeral services are entrusted to James Memorial Funeral Home Inc.