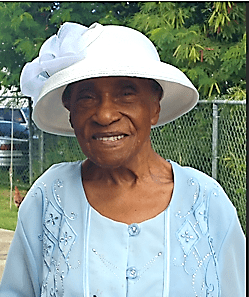 Georgina Adina Amabel "Lucille" Bartlett was called to glory on Oct. 1. She passed away quietly at her home in Tampa at 106 years.
She is survived by numerous family members. She was born and raised in the British West Indies, Nevis. In 1969, she moved to St. Croix. She was a foster grandparent for many of the elementary schools. She was very instrumental in the lives of many young minds of the St. Croix community.
As a long-standing member of the Trinity Wesleyan Holiness Church, she served her church well. At the age of 100, her home church celebrated her as being one of the Virgin Islands centurions. After her 100th birthday, she relocated to Tampa, Fla., in March of 2017, to be with her great-niece and her family until her passing.  She was the last surviving child of her mother's six children.
She is survived by several generations of family members: nephews: Joseph "Mart" Prentice (STJ), Franklin "Ribbs" Sturge (STX), Ernest, Wyclyn, Oscar, Frank, Walter and James; nieces: Eunice Merkman (St. Eustatia), Ionie Walters, Sybylla and Doreen Thompson; and great-nephews: Aubrey Liburd, Hesketh "Wakey" Prentice, Wayne "Kamba" Chiverton, Ivor Chiverton, Clinton "Bashi' Chiverton, Eugene "Chevy/ Bim" Chiverton, former Senator St. Claire Williams, James "Jett" Williams, Elton "Alaba" Chiverton, "Dennis "Spliff" Lewis, Carlos, Collin, Ruben, Rignaldo, Oswin, Selwyn and Garfield Brown, Carden, Winston and Kenneth Williams, Trevor Williams and Danny Williams, Honorable Mark Brantley (Nev.), Raymond Brantley and many more.
She is also survived by great nieces: Carolyn Sturge, Donna and Jean Cruise, Ruth Williams, Glenice, Ruby, Jasmin, Kathleen, Pearlina, Marcella, Lorna and Beulah Merkman Simmons, Edris Bennet, Javanca Merkman, Mealna, Karen and Jaqueline (Dahl) Chiverton, Beatrice, Ingrid, Iona, Pauline and Helen Brantley, Soria Brantley, Michelle Brantley, Yvette Brantley and Heather Brantley.
Other survivors include special great-great nieces: Colleen Liburd, Rhodesia Jacobs, Nikki and Gail; special great-great nephews: Deshea and Johnny Jacobs; other families: Phillip Jacob and family, the Liburd family, the Powell family, the DeCosta family, the Marshall family, the Prentice family, Calmenita "Suzette" Lewis and family, Kayren Maynard and family, the Williams family, the Brantley family, the Sturge family, the Chiverton family, the Ward family and many others; special friends: Joan Liburd, Ms. Ivy Ashwood, Solomon and Monica Phillip, Aimee Santana, the staff of Water Gut Homes, the Trinity Wesleyan Church family, and James Jarvis.
Family viewing will take place from 3-5 p.m., Thursday, Oct. 20, at Divine Funeral Services. Homegoing Service for Ms. Amabel "Lucille" Bartlett will be on Oct. 21. Viewing: 10 a.m. Service: 11 a.m. The service will be held at Trinity Wesleyan Holiness Church. We are requesting festive colors.