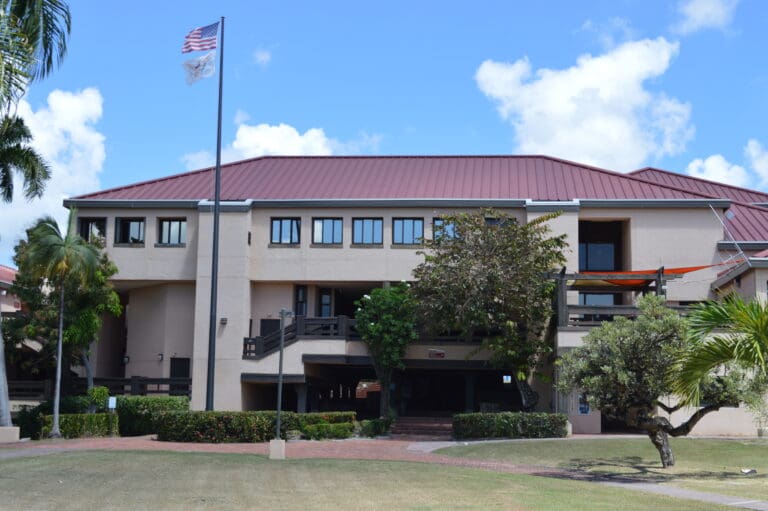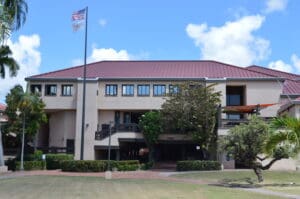 Journalism Students Represent UVI at Top National Conference Four University of the Virgin Islands (UVI) journalism students recently attended the nation's leading conference for journalism education, career development, networking and industry innovation for persons of color.
The members of the UVI Association of Black Journalists (UVIABJ) joined thousands of journalists, media executives, journalism educators, public relations professionals, and students from the United States and other countries in attending the 2022 National Association of Black Journalists (NABJ) and the National Association of Hispanic Journalists (NAHJ) joint Convention & Career Fair, which was held in Las Vegas, Nev. in an in-person format for the first time since the COVID-19 pandemic.
UVIABJ President Nadege Barber, Vice-President Michael Bell, Treasurer Carlos Eton and Undergraduate Advisor George Francis participated with fellow students as well as industry professionals in various activities, including workshops, lectures and presentations focused on the arts and entertainment, media relations, communications, health and science, investigative journalism, storytelling, economy and business, social justice and community and leadership.
The convention and career fair, whose theme was "Changing the Game/Breaking Barriers", included a welcome reception sponsored by Disney, and a Hall of Fame luncheon to recognize journalists of color who have made significant strides throughout their careers in the field of mass communication.
The UVIABJ team also attended the "Salute to Excellence Gala and Award Ceremony," a special invitation-only event at which UVIABJ was nominated for recognition in the category of "Digital Media-Undergraduate: Online Feature Reporting" for its video presentation "BlocCom: Fact Check the Fact Checkers." The UVI student production won first place in the Blockchain national competition hosted by Morgan State University, FinTech.
More information is available in a news release on the Media Section of the UVI Website www.uvi.edu/
Volunteers Needed for Annual Coastweeks Planned Cleanups Kick-off on September 17 Volunteers are needed for the annual Coastweeks Cleanups organized by the Virgin Islands Marine Advisory Service (VIMAS) and supported by numerous community partners. Each cleanup is led by a site captain who will provide data sheets to volunteers to assist with the recording of the types of the weight of debris.
The kick-off cleanup on St. Thomas will start from 9 a.m. to 11:30 a.m., Sept. 17, on Brewers Bay beach.  Interested volunteers should register for this and additional cleanups at https://forms.gle/Z5rSnCFxwVb5d23LA.
Additional cleanups will be scheduled on St. Thomas and St. Croix until November 2022; participants can view the full cleanup schedule at https://www.uvi.edu/community/virgin-islands-marine-advisory-service/st-thomas/coast-weeks.aspx.
Beach cleanup supplies, such as trash bags, buckets, pencils, gloves and water, will be provided (volunteers should bring a reusable water bottle); students can also earn community service hours for volunteering.
For more information, contact Howard Forbes Jr. at 693-1672 or email howard.forbes@uvi.edu.
Students, Employees Urged to Sign Up for Bucs Alert Emergency Notification System June 1 marked the beginning of the Atlantic Hurricane Season. All UVI students and employees are urged to sign up for Bucs Alert, UVI's emergency notification system which is used to share critical information via text messages and e-mail. Participants simply add their cell phone numbers and e-mail addresses to the "Personal Information" page in UVI's BanWeb accounts. Those who have already added information to the system are encouraged to periodically check their details in case updates are needed.