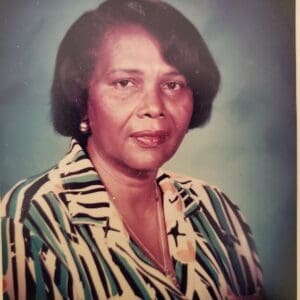 Chrystalia Christopher of La Grange died on Aug. 14. She was 90 years old.
She was preceded in death by her mother, Idalia Chrystalia Mathias Wade; father, Joseph Donovan; stepsons: Raymond Emanuel Christopher and Roy Anthony Christopher; brother, Dennis Donovan Sr.; and niece, Denise Donovan-Archibald; and nephew, Kariise Donovan-Mckie.
She is survived by her spouse: Etheldred S. Christopher Sr. (Cino); sons: John L. Christopher, (Neb.) Asarkasaamsu Asarra Ra II Karapernuntu Herishetapaheru (f/k/a Carl Fernando Christopher) and Etheldred S. Christopher Jr. (Sunni); grandchildren: Amobi Bilal Christopher, Kaivailya Christopher Amadee, Salama Christopher Holder, Maakera Christopher, Akeru Nefer Christopher, Anut-Meri Christopher, Etheldred S. Christopher III, TVyonnae Christopher and Amaria Christopher; step-grandchildren: Anubi Kahina, Anua Kahina, AnuPtah Kahina, AnuMaat Kahina, AnutMeri R. A. K. Christopher, Amolay Christopher, Roy Anthony Christopher, Jr, Kisha Marie Christopher, Jamal C. Christopher, Shakima Christophena Christopher, Kareem Jason Christopher, Anwar Carlyle Christopher and George Christopher; great-grandchildren: Amobi Christopher Jr., Amani Christopher, Kalia Yasmeen Christopher, Jasmine Simone Christopher, Ajani Amadee, Kymani Amadee and Nala Amadee, Apollo Holder, Amina Holder, Aaleyah Holder and Ava Holder, Alyzah Reign Edwards, Liannys Ayame Christopher, Jahsiah Saldana and Jahnia Saldana, Anyah Christopher and Ellehnay Christopher; step-great-grandchildren: Amalia Christopher, Makik Christopher, Arisa Christopher, Roy Anthony Christopher III, Yahnillis Christopher, Kemyah Christopher, Amiziah Christopher, Ra-Shyra Andrea Cynthia Davy, Ray-Mani Akido Davy, Ke'Mykah Ajah Barnes, OmegaNatki Christensen, Makari Amal Meyers Christopher, Makari Ajamas Christopher, Asar Christopher, Nasheem Christopher, Anwar Carlyle Christopher Jr., Amaryon Cumwah Christopher, Amaris Carlyia Christopher, Kayden Kahina, Kiara Kahina and Kherisheta Nefer Kahina; brothers: Charles Donovan Sr., Rudolph Donovan Sr., Elroy Donovan, Sr. and Calvin Donovan; sisters: Ena Donovan-Gomez, Blanche Donovan-Griffith and Pacita Donovan; nieces and nephews: Leroy Donovan, Starr Donovan-Johnson, Stephanie Donovan-Branch, Charles Donovan Jr., Tyrone Donovan, Michael Donovan, William Donovan, Tralane Donovan. Linda Donovan-Singleton, Blanche Donovan-Sims, Dale Donovan, Daryl Donovan, Elvis Donocan, Dennis Donovan Jr., Larry Donovan, Morita Donovan, Kimberly Donovan-Mille and Gary Donovan, Rudolph Donovan Jr., Lisa Donovan, Mariano Donovan, Tamichia Donovan, La'Viente Donovan and Morico Donovan, Lelia Donovan-Challenger, Elroy Donovan Jr., Brent Donovan, Damara Donovan, Jahmal Donovan, Glen Gomez and Todd Gomez, Ken Griffith, Kevin Griffith and Natasha Griffith-Meyers, Kevin Carty, Jeanelle Henry-Lambertis and Torian Henry; daughters-in-law: Gail Reynolds Christopher and Chenzira Davis Kahina; brothers-in-law: Ezra Gomez and Leopold Griffith; sisters-in-law: Ajuwa Donovan, Julie Donovan and Francis Donovan; godchild, Kent Moorehead; special friends: Alfreda Oyesen & Family; Winnona Hendricks & Family; Cedelle Petersen, Sackey Family; Richards Family; Boring Family, Sherri R. Henigan and Daisy Mato; cousins and other relatives: Dorothy Wade, Eugenie Glasgow, Bernice Donovan, Joan Hunter, Sonia Leonard, Angela Miller; and others too numerous to mention.
The funeral service will be streamed on YouTube: Hill of Peace and Facebook: Friedensberg Moravian Church.
The viewing will begin at 9 a.m. with a funeral service at 10 a.m., Friday, Sept. 9, at Friedensberg Moravian Church. Private cremation will follow.