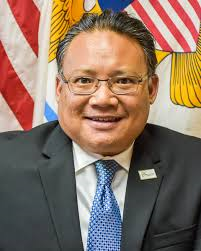 The Department of Licensing and Consumer Affairs (DLCA) has announced that its online website is now tri-lingual. When visiting www.dlca.vi.gov, external customers may apply for a new business license, renew their business license or file a consumer complaint by selecting "translate" at the top right-hand corner of the page then choosing either English, Spanish or French.
DLCA continues serving businesses and assisting, educating and protecting consumers.  Establishments or consumers with questions or concerns may contact the department at 713-3522 on St. Croix, 714-3522 on St. Thomas or 693-8036 on St. John. An alternative is via email at consumerawareness@dlca.vi.gov  Follow DLCA on Facebook at @dlcausvi.
The Bryan-Roach Administration is investing in the Territory's people, infrastructure and future through transparency, stabilizing the economy, restoring trust in the government and ensuring that recovery projects are completed as quickly as possible. Visit https://transparency.vi.gov
##
(Islas Vírgenes de los Estados Unidos) – El Departamento de Licencias y Asuntos del Consumidor (DLCA) se complace en anunciar que su sitio web en línea es ahora trilingüe. Los clientes externos cuando visiten www.dlca.vi.gov pueden solicitar una nueva licencia comercial, renovar su licencia comercial y presentar una queja del consumidor seleccionando traducir en la esquina superior derecha de la página y luego elegir inglés, Español o Francés.
DLCA continúa sirviendo a las empresas y asistiendo, educando y protegiendo a los consumidores.  Los establecimientos o consumidores con preguntas o inquietudes pueden comunicarse con nosotros al 713-3522 en St. Croix, 714-3522 en St. Thomas, o St. John al 693-8036 o por correo electrónico a consumerawareness@dlca.vi.gov Síganos en Facebook en @dlcausvi.
La Administración Bryan-Roach está invirtiendo en la gente, la infraestructura y el futuro del Territorio a través de la transparencia, la estabilización de la economía, el restablecimiento de la confianza en el gobierno y la garantía de que los proyectos de recuperación se completen lo más rápido posible. Visita https://transparency.vi.gov
##
(Îles Vierges américaines) – Le Department of Licensing and Consumer Affairs (DLCA) a le plaisir d'annoncer que son site Web en ligne est désormais trilingue. Les clients externes qui visitent www.dlca.vi.gov peuvent demander une nouvelle licence commerciale, renouveler leur licence commerciale et déposer une plainte de consommateur en sélectionnant traduire dans le coin supérieur droit de la page, puis en choisissant Anglais, espagnol ou Français.
DLCA continue de servir les entreprises et d'aider, d'éduquer et de protéger les consommateurs.  Les établissements ou les consommateurs ayant des questions ou des préoccupations peuvent communiquer avec nous au 713-3522 à Sainte-Croix, au 714-3522 à Saint-Thomas ou à Saint-Jean au 693-8036 ou par courriel à consumerawareness@dlca.vi.gov Suivez-nous sur Facebook à @dlcausvi.
L'administration Bryan-Roach investit dans la population, l'infrastructure et l'avenir du territoire grâce à la transparence, à la stabilisation de l'économie, au rétablissement de la confiance dans le gouvernement et à l'achèvement des projets de rétablissement le plus rapidement possible. Visitez https://transparency.vi.gov