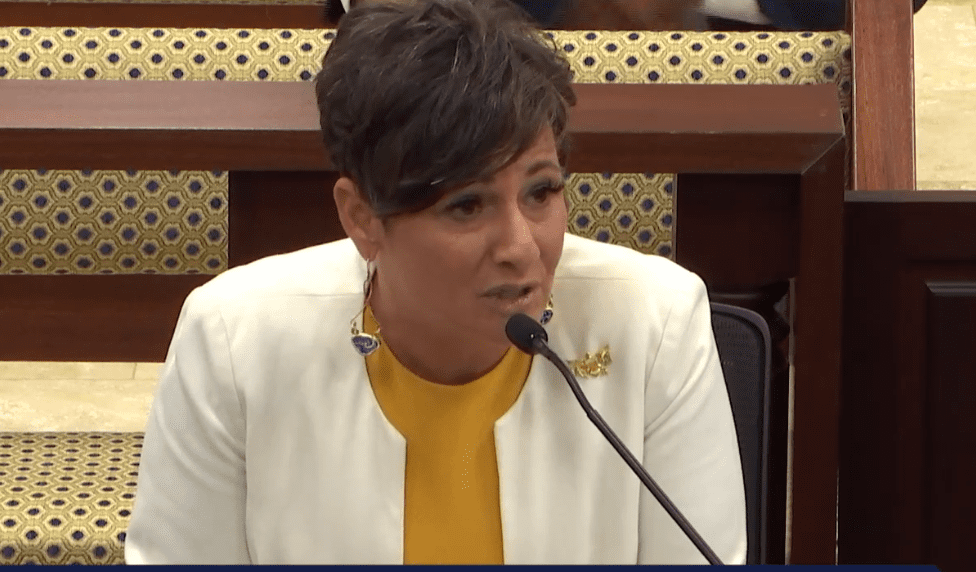 Kimberley Causey-Gomez, commissioner of the Department of Human Services, presented to the Committee on Finance Friday an hour-long, detailed report Friday in support of her department's request for a General Fund appropriation of $66.7 million. The senators still had many questions about the numbers.
DHS is one of the largest departments of the territorial government. Causey-Gomez said over one-third of the territory's residents receive services from the department.
The department employs 707 individuals in fifteen divisions covering 84 programs.
The combined local and federal funding proposed for the Department is $258 million for 2023. The Department is expected to receive $188.9 million in 101 new federal grants. Causey-Gomez testified, "The Budget will allow us to continue to make advancements on a slate of critical programs and policies, expand our digital outreach, maintain staffing levels, and continue to provide social support services to the most disadvantaged and vulnerable people in our community."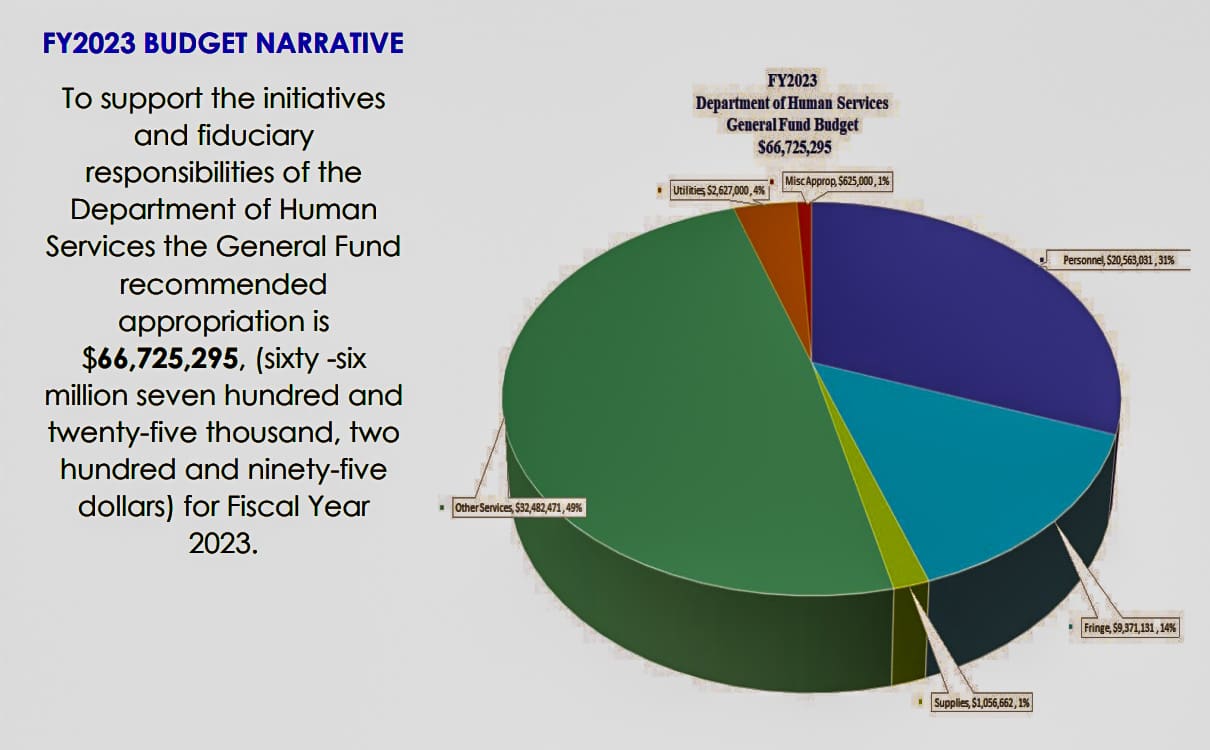 Sen. Marvin Blyden wanted to know how much had been spent on various programs and what money was left to spend this year.
Sen. Carla Joseph asked how much money had been spent out of the crime victim's fund. She was told that over $330,000 was going to be disbursed, but another $60,000 was needed if all approved claims were to be covered.
Sen. Kurt Vialet wanted to know how food vendors in the Meals on Wheels program were going to be compensated as the cost of food has "doubled." Causey-Gomez said those contracts were being looked at and potentially could be adjusted.
Sen. Dwayne DeGraff asked if the Department was going to be able to cover promised wage increases as it was proposing a half million less this year for personnel costs – dropping from $21 million to $20.5 million. He was told yes, the wage increases would happen.
Sen. Janelle Sarauw had general questions about outstanding pay due to workers in "acting" positions and employees owed settlements, and other employees owed back pay.
Causey-Gomez detailed a list of capital projects the Department is overseeing. The largest is the Herbert Grigg Home for the Aged, which has been awarded a FEMA grant of $100 million. Causey-Gomez said a new 60-bed skilled facility will be built on site. Grigg has also reopened its newly refurbished kitchen dining area, conference room, and front lounge patio as part of its quality improvement initiative.
The Queen Louise Home for the Aged has also been awarded a FEMA $73 million replacement grant. Causey-Gomez said, "This award represents an excellent opportunity for Human Services to improve care for the elderly in the Virgin Islands."
The budget request breakdown, according to a press release issued by the Senate after the meeting, is as follows: $20.5 million for personnel services; $2.6 million for utilities; $1 million for supplies; $32 million for other services and charges; $625,000 for miscellaneous; and $9.4 million for fringe benefits. The release also said that compared to the budget request last year, this represents a decrease of $7 million.
Causey-Gomez testified that from the beginning of October 2021 through June 30, Medicaid paid Juan Luis Hospital $7.1 million; Roy L. Schneider Hospital $6.6 million; Frederiksted Health Center $7 million; and St. Thomas East End Medical Center $2 million.
She also reported that the Juan Luis Hospital and the Roy Schneider Hospital were averaging five to eight boarders each. Boarders are patients who have been officially discharged because they no longer have a medical necessity for in-patient care in a hospital but have no safe residence to return to.
The meeting was attended by Sens. Kurt Vialet, Dwayne DeGraff, Marvin Blyden, Janelle Sarauw, Carla Joseph, Angel Bolques Jr., Novelle Francis Jr., Samuel Carrion, Javan James, and Kenneth Gittens.