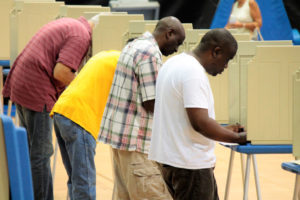 A record-breaking 4,418 people cast their ballots during early voting for the Democratic Primary election that ended on Monday, according to Supervisor of Elections Caroline Fawkes.
The numbers surpassed those of 2018, when 3,521 people voted early. This year, of the 34,697 registered Democrats territorywide, 13 percent participated in early voting, including 2,182 on St. Thomas, 2,131 on St. Croix and 105 on St. John, according to an Elections System press release issued Monday night.
The Primary Election will take place on Saturday, with polls open from 7 a.m. to 7 p.m. The following is a list of Voting Centers by district:
St. Thomas
Tutu Park Mall (former Scotia Bank location)
Charlotte Amalie High School gymnasium
University of the Virgin Islands Sports & Fitness Center
St. John
Julius E. Sprauve School cafeteria
Calabash Boom Community Center
St. Croix
D.C. Canegata Recreation Center
St. Croix Central High School gymnasium
Arthur A. Richards K-8th School modular cafeteria
Fawkes thanked her dedicated team at the Elections System, poll workers and the support services of the V.I. Police Department and the Health Department for the success of the early voting effort.
"Someone struggled for your right to vote. Use it," Fawkes said, quoting the late Susan B. Anthony.