John ("Jack") Bishop (7.10.1961 — 6.13.2022)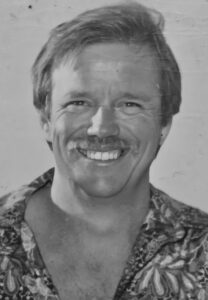 John ("Jack") Bishop, age 60, passed away peacefully in his sleep on Monday, June 13, 2022, with his wife, son, and daughter by his side. Jack was diagnosed with aggressive and rare stage-four cancer in August 2021, which he courageously fought until the very end.
Jack is survived by his wife, Jean; daughter, Katherine; and son, Julian. Jack is also survived by his father, Donald ("Don"); siblings and their partners: Mark and Wanda; Eileen and Charles; Brian; Clare and George; Michael ("Mick") and Ann; nephews and nieces: Diamond, Cory, Carisma, Serena; Ruby, Nick; Alison, Laura, Kimberly, Hannah; Nathan and Therese, Ben; Lucia, Necha; Seiba, Leiloni; Charlie, Sam, Jack; Christopher, Jonathan, Molly; and far too many other loved ones to list — you all had a special place in Jack's heart.
Jack was preceded in death by his mother: Rosemary; brothers: Robert ("Bob"), and Donald ("Donnie"); sister: Rosemary; and close friends: Kip Durant and Carlos Skov.
Jack was born on July 10, 1961, at the Charles Harwood Hospital in Christiansted, St. Croix, the youngest of nine Bishop siblings. Jack was a sailor from a young age, and enjoyed fishing, local agriculture, cracking jokes and making friends. In his early 20s, he became the owner of Armrey Industries, working alongside many great people — some for several decades. In 1989, Jack married the love of his life, Jean, and they had two children, Katherine (1993) and Julian (2000). Jack sailed in and won several regattas and other competitions on his boat, Broken Drum, on Bad Girl, and others. Jack was truly a child of the island where he lived his entire life. Even in his last moments, all he would talk about was his home, St. Croix. He will be deeply missed by our family, his loved ones, and the community. 
A Celebration of Life will be held at the St. Croix Yacht Club on Saturday, July 9th at 9 a.m. All are welcome to attend and asked to wear tropical prints or other colorful attire in honor of Jack's bright spirit. In lieu of flowers, please consider donating to cancersupportvi.org.