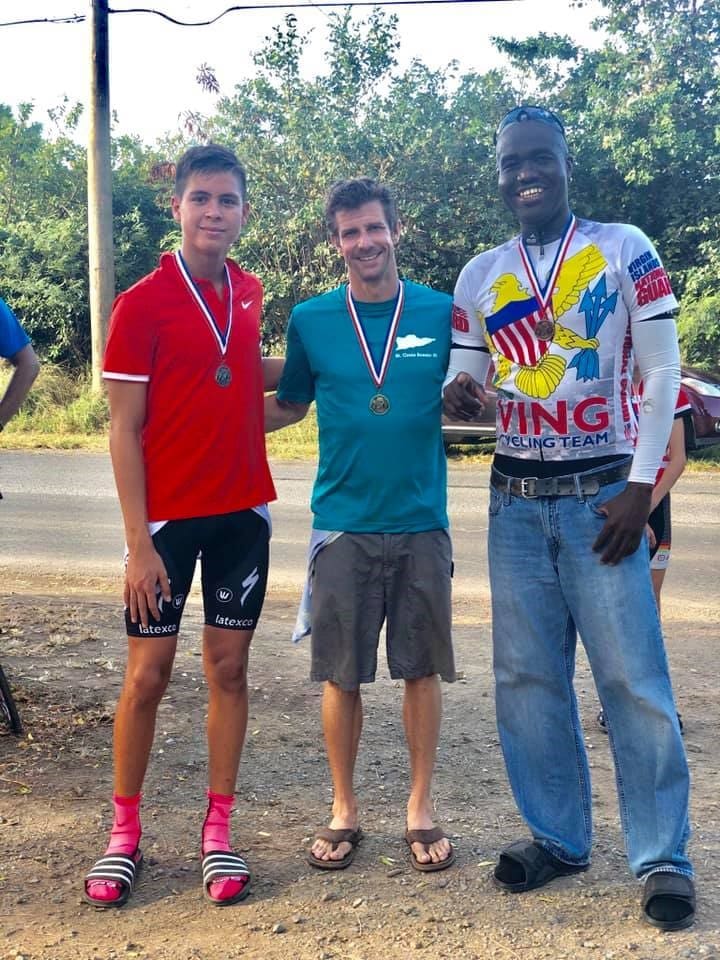 In celebration of Olympic Day, which is officially held worldwide on June 23, the Virgin Islands Cycling Federation (VICF) held the Riding To The Rings Time Trial, an event that was sponsored by the Virgin Islands Olympic Committee.  It was overcast, yet humid and very windy, so there were no records set at yesterday's race.  All 24 cyclists rode the same distance (approximately 13 miles) around St. Croix's east end, starting and finishing at Castaways in Estate Solitude.
In an individual time-trial format, each cyclist was sent off from the starting line at one-minute intervals and their finish time was calculated by their individual start time to finish time. The overall winner was Elite rider Stephen Swanton in a time of 37:33.; Glenn (Hula) Massiah was second in 38:18; Expert rider Robin Seila was third in 38:47.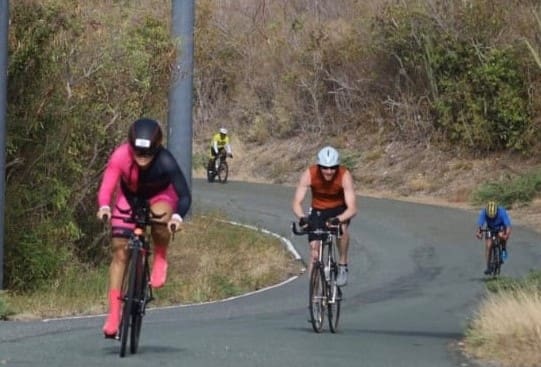 The next VI Cycling Federation race will be held on July 26. The course will soon be announced soon.  For more information on cycling in the Virgin Islands, call 643-6420.
Riding To The Rings Time Trial
– An Olympic Month Event – June 12, 2022 Start/Finish: Castaways, St. Croix – East End Loop: ~13 miles (Conditions: overcast, humid, windy/ Direction: counterclockwise)
Elite                         Time            Overall Place
Stephen Swanton 37:33                 1
Glenn Massiah 38:18                      2
David Parris 39:05                          4
Joey Swanson 40:10                       5
Expert
Robin Seila 38:47                                3
Jerry Remie 41:19                               6
Ralph Bartlett 43:37                            8
Troy Holloway 44:47                            9
Catherine Seguin 45:09                      10
Sport
James Bates 43:41                               7
Bob Halk 46:25                                  11
Mario Butcher 48:13                           12
Justin Johnson 51:14                          16
Matt Sims 51:28                                 17
Masters
Yves Abraham 50:00                             14
Brian Otis 50:15                                    15
Renwick Lynch 51:55                              18
Brian O'Reilly 53:13                                19
Rich Grippo 54:44                                   20
James Meyers                    DNF
Women
Jackie Robak 49:46                                    13
Amy Stalbaum 54:45                                  21
Jody Goodrich 1:01:06                                22
Judy Gario 1:03:52                                      23