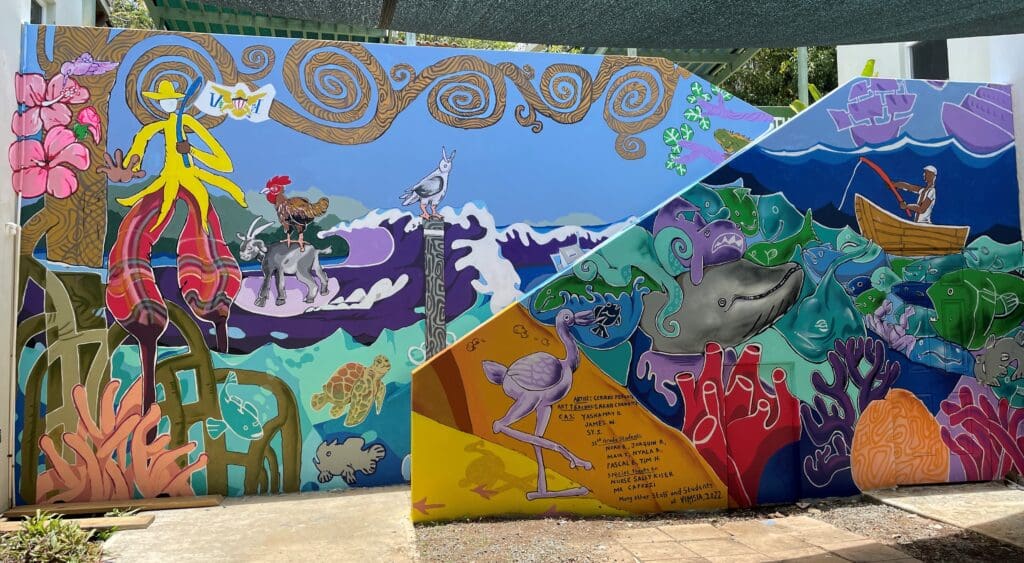 Virgin Islands Montessori School and Peter Gruber International Academy (VIMSIA) students collaborated with visual artist Gerard Pefung to complete a mural on campus.
Pefung is a Cameroonian-born, Brooklyn-based visual artist who showcases original art and ideas inspired by the history of hip hop and the rich culture of Africa. VIMSIA approached Pefung while he was creating another mural on island.
Visual art teacher Sarah Cornette, with the support of VIMSIA, invited him to work with the 11th-grade students to develop a mural highlighting Virgin Islands culture.  Students Sy Sebastian, Yashamay David and James Walgenwitt worked extensively with Cornette and Pefung to create symbols of their personal history and Caribbean traditions.
The entire 11th-grade class created drawings for the project that were then folded into the final image. From cruise ships to fish to the Virgin Islands flag, the wall bursts with vibrant color and movement.
"The design phase was my favorite. It allowed us to share our ideas and collaborate with each other to make one cohesive piece. In this phase, we got to learn more about one another and what parts of our culture were most significant. In the end, we got to incorporate something important that represented us, and I chose a moko jumbie," said Sebastian.
Walgenwitt says, "I hope when a person comes across the mural, it's inviting to everyone and helps convey all the great parts of the islands and our culture."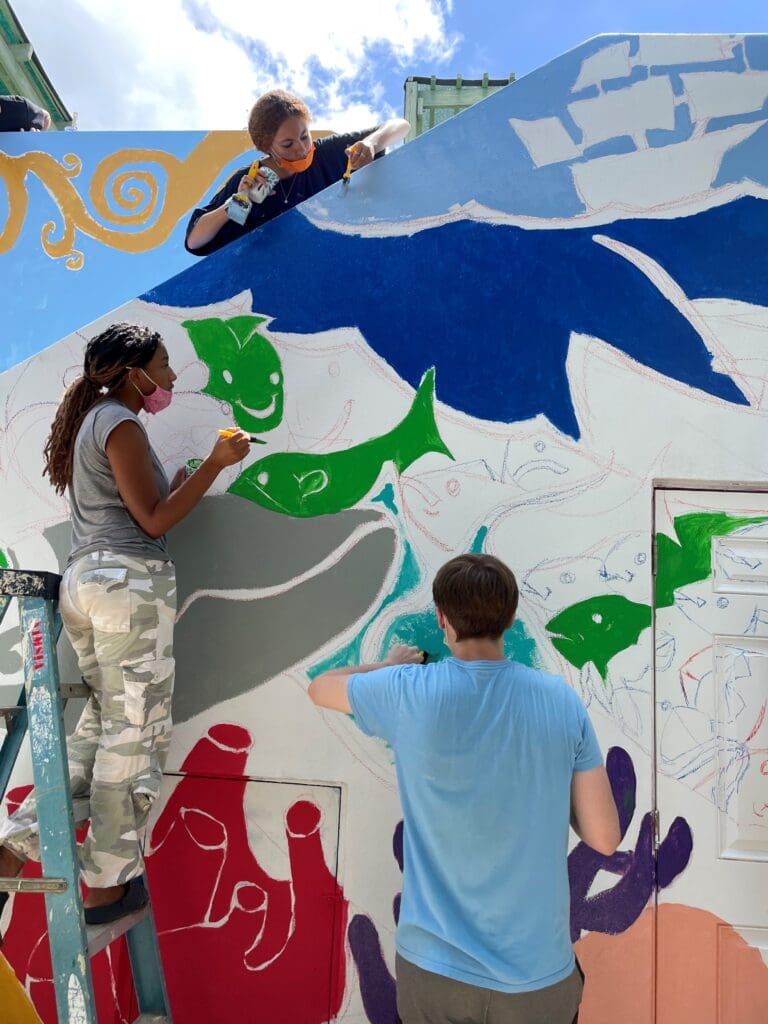 The students also wanted to include their pressing environmental concerns, which is represented by a plastic bag and bottle on the seafloor. The mural's location is significant to the project, as it is right in the heart of the school's campus.  Everyone and anyone who walked by was invited to participate in the painting, including elementary students and staff members.
"The more people who have a hand in creating the mural, the more joy our whole community will receive from it," said Cornette, who has led community-created murals worldwide.