In conjunction with Older Americans' Month, Gov. Albert Bryan, Jr. announced Monday, during the weekly press conference, $1 million in funding for a new multi-agency physical, mental, and emotional wellness program for Virgin Islanders — especially senior citizens.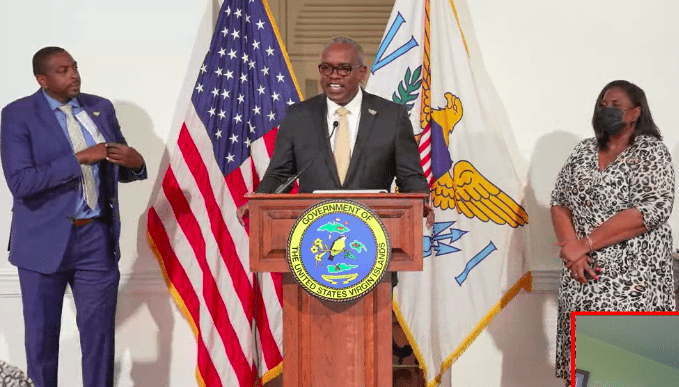 The governor was joined by Calvert White, commissioner of V.I. Sports, Parks and Recreation, and Michel Rhymer-Browne, assistant commissioner of V.I. Human Services, to talk about the education, recreation, and the health program Our Best Life.
Bryan first listed some of the other things he has done to improve Virgin Islanders' health, including a program for small business owners to purchase health insurance for themselves and their employees, the Office of Health Information Technology, and merging firefighters and emergency medical technicians to provide additional medical personnel.
To manage the wellness program, the Commission on Aging will be reactivated, Bryan said. Our Best Life will work in partnership with private companies, such as VIYA, non-profit organizations like AARP, and government agencies to implement the program, including more home health care and food programs.
Reasons for the program include combating heart disease, which is the #1 killer of Virgin Islanders. Diabetes is the sixth leading cause of death in the territory and affects more than 16 percent of residents, he said.
"What we eat and what we do not eat and how active we are," he said. "The focus is to keep you out of the hospital, not make the hospital better."
Rhymer-Browne said the program will kick off Tuesday with a church service on St. Croix. A calendar with activities, educational opportunities, movies, and wellness walks will be published soon. A website is scheduled to be available on May 16. Answering a question, she said healthy eating and good food will be stressed.
Commissioner White announced that their outdoor facilities are being rehabilitated, and service centers will be fixed, according to the governor. Businesses that offer classes like Zumba, kickboxing, or water aerobics will be contracted to provide free instruction along with activities through the department — basketball, tennis, gardening, and crocheting. There will be programs for families and children as well as seniors.
"It's not about the pounds that you lose. It's about how you feel. We're just trying to get people out of their house and come to the department facilities so that you can enjoy some physical activities," he said.
White also talked about Virgin Islander Ayliah Boston, the #1 women's NCAA basketball player. She will host a basketball camp on June 10 on St. Thomas, sponsored by Under Armor. The camp will include 25 players from St. Thomas and 25 from St. Croix. Plans are being made for the community to honor Boston when she returns to St. Thomas, he added.
Gov. Bryan Addresses British Virgin Islands Legal Problems
Last week the BVI Premier Andrew Fahie and Port Authority Director Oleavine Pickering Maynard were arrested on cocaine and money laundering charges in Miami.
As a result, the BVI Governor John Rankin released a Commission of Inquiry report earlier than planned that recommends partial suspension of the territory's elected government and imposes British rule for at least two years.
At the end of the briefing, Bryan made his first statement about the "tragic news" involving the "unfortunate arrest" of the premier, adding he sends prayers to the people of the island.
"We in the Virgin Islands have been managing our government for about 54 years. I think they have been managing their government a far lot less. I think when we make these mistakes, as a territory, as an independent place like BVI — these colonizers — that have bought us or sold us from one existence into another, conquered us — give us an opportunity to make those mistakes and give guidance. Taking over is a terrible thing to do, I think. I think that we have very talented Virgin Islanders that have managed to turn around this ship in the Virgin Islands, and I think that in the BVI government, they have the same. And I pray that the British Government gives those local people the opportunity to take their government back under control and give them what they deserve. Taking the rights of people away in this day and age is wrong. And we must not allow people to colonize us, small as we are," he said.