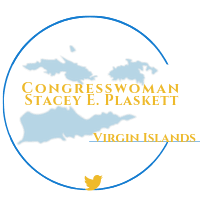 Congresswoman Stacey E. Plaskett, a member of the Ways and Means Committee, made the following statement on the business expo sessions held by her office on St. Thomas and St. Croix this past weekend:
"I would like to thank all of the local and federal government agencies that made our Business Expo possible. We had a number of individuals who represented well for the U.S. Small Business Administration, the USDA Rural Development Program, the Economic Development Authority/Bank, the V.I Housing Finance Authority, the Department of Property and Procurement the Small Business Development Center, our local banks and the UVI Research and Technology Park.
"I firmly believe that for the Virgin Islands to prosper, sustainable economic diversification is necessary, and the historic investments being made by Congress through transformational pieces of legislation like the Bipartisan Infrastructure Bill present unique opportunities for our Virgin Islands businesses.  The purpose of the Business Expo was to connect our local businessowners with the information they need to be able to successfully do business with the local and federal government.
"There were presentations on numerous topics, including the process of becoming a qualified government contractor, the bidding process, both local and federal, as well as information on vehicles of funding for small businesses, such as loans and grants.
"It is my hope that the information shared during the expo will be instructive and helpful for our local businesses as we work to rebuild our Virgin Islands home not just as it was, but much better."
If interested in seeing the recording of the business expo or any of the presentation slide decks, contact the office via email at askstacey@mail.house.gov.