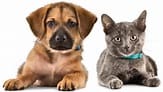 Although the new year did not bring the U.S. Virgin Islands community relief from the nightmarish pandemic, it did bring a ray of hope via Kym's Angels Spay and Neuter Fund for the Humane Society of St. Thomas.
Kym Rapier Verette and her husband Glen have donated $85,000 for the start of this new animal overpopulation control initiative. Along with other generous donors, the fund administered by the Community Foundation of the Virgin Islands, which now totals $105,000, will help tremendously to decrease shelter intake and euthanasia making free spay and neuter vouchers available to pet owners and community cat caretakers.
"HSSTT would like to thank the Verettes for consistently being by our side, understanding our needs, and lending their much needed and appreciated assistance which helps to allow for the existence of HSSTT's many significant programs. Our goal is simple: we need to stop the birth of thousands of kittens and puppies deemed as surplus today and thereby save thousands of lives," said HSSTT Board President Dellia Holodenschi.
HSSTT is committed to making 2022 the beginning of a new era in animal welfare. In this effort, pet owners and community cat caretakers in need of spay and neuter financial assistance are encouraged to call 775-0599 to obtain a voucher.
Thanks to the generosity of our donors, along with the collaboration of our local veterinarians, this critical community service is free!
For further information, call the Humane Society of St. Thomas at 775-0599.