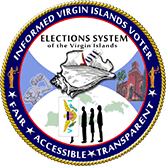 The 2022 Election Calendar is now available and can be obtained at the Elections System office or via its website. Office locations and times are:
St. Croix Elections Office – Sunny Isles Annex, Unit 4
(8:30 a.m. to 2 p.m., daily)
St. Thomas Elections Office – Lockhart Gardens (Upstairs Banco Popular)
(8:30 a.m. to 2 p.m., daily)
St. John Elections Office – Market Place Suite II.
(Tuesdays and Thursdays – 9 a.m. to 2 p.m., daily)
Masks or facial covering must be worn correctly covering the nose and mouth, and hands must be sanitized before entry. There will be temperature screening and 6ft. social distancing.
If there are questions, contact the offices at 773-1021 (St. Croix) or 774-3107 (St. Thomas).